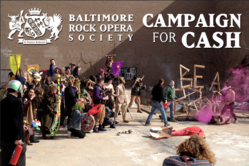 BROS is the Baltimore answer to Broadway-centric musical theater...BROS solicit the artistic community to mount exhilarating productions that play renegade to the domesticated mainstream. --Huffington Post
Baltimore, MD (PRWEB) March 06, 2013
The Baltimore Rock Opera Society (BROS) is pleased to announce the launch of a major new fundraising effort to raise $20,000 dollars in 30 days to support the creation of their new headquarters located in Baltimore's Station North Arts and Entertainment District. This rock mecca and production studio will enable BROS to expand their number of performances of all-original rock operas every year and become a touring rock opera society, bringing the word of True Rock to the Mid-Atlantic and Eastern Seaboard region. BROS is calling on all legions of would-be rockers to support them in their 7,000 year mission to melt faces by supporting the "BE A BRO: Let the Rock Rain Down 2013 CAMPAIGN FOR CASH!"
The Baltimore Rock Opera Society (BROS) was founded in 2007 by a small group of friends sitting in a basement dreaming of an impossibly enormous story that would be told through the awesome power of rock. Since that time BROS has become a powerhouse of Baltimore's cultural landscape, comprised of a highly energetic troupe of actors, writers, musicians, and artists with the sole mission of producing original, live rock operas in Baltimore and beyond. Every year thousands of fans flock from the Mid-Atlantic region to witness the performances of the city's most collaborative, creative production troupe.
In essence an amped-up musical theater experience, BROS performances maximize production value within a "do-it-yourself" budget. Highly detailed and jaw-dropping sets, handmade props, and visionary costume design create an awe-inspiring visual context in which actors and musicians tell the story. Live bands are at the core of every show, providing an experience that is equal parts arena rock and Grand Opera. Driven by a vision to unite the talent and energy of Baltimore's artists in pursuit of producing an art form unlike any other available, BROS has embarked upon a mission of epic proportions.
From the Press:
"In an arts world coursing with nerd-chic, they are very much the real thing. There's nothing ironic or self-conscious about them. They're dudes who like cheap beer, explosions, and intricate, large scale stage production." –Baltimore City Paper
"They are driven by vision and fueled by passion. If you get it and want in they will find an
important place for you…I maintain they build tribe better than anyone in Baltimore."
–What Weekly
"They welcome you with a smile, hand you a hand-crafted brew, shatter your expectations and then melt your face, what more do you want from live theater?" - Brendan Cooke, Artistic Director of Baltimore Concert Opera and General Director of Opera Delaware
"You want a show? This is a f***ing show." –Baltimore City Paper on VALHELLA: The Ragnarøkkoperetta
"Nothing – and I mean NOTHING – can prepare you for the rock SPECTACLE that is the BROS production of Valhella." –dcmetrotheatrearts.com
"The productions are incredible… if you love opera, see it. If you think opera is old-fashioned, this will change your mind!" –Doreen Bolger, Director of the Baltimore Museum of Art
"With their over-sized cast and live band fueled by Natty Boh, this happy breed undresses the young hipsters insistence on desperately trying to be cool. They are an unchaste crowd whose mission seems simple: elate, elate! This makes them almost religiously cool." --Baltimore-Post Examiner