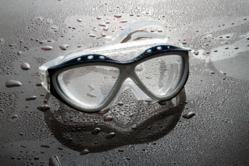 Affordably perfect for any of the hundreds of millions of eyeglass and contact lens wearers worldwide who want to enjoy watersports safely with clear vision.
Los Angeles, Calif (PRWEB) March 01, 2013
Aquaviz, the world's first affordable custom prescription dive masks and prescription swim masks, are now available to purchase online at http://www.aquaviz.com. Consumers in the US, UK and beyond can have this groundbreaking watersports vision product for active eyeglass and contact lens wearers shipped directly to their homes.
What makes Aquaviz so innovative is its patent pending 'Snap-in' prescription lens insertion design with a lens insert that can be custom made to the wearer's prescription (including bifocals and varifocals), that fits comfortably and interchangeably into specially-designed Aquaviz swim masks and dive masks. The Snap-in insert position has been specifically designed to sit the same distance away from eyes as most regular eyeglasses for comfort and visual acuity.
Aquaviz offers a comfortable, watertight fit, achieved with a dive-quality hypoallergenic skirt that securely adapts to a wide range of face shapes and is secured with gasket suction and silicone double head strap. Its single gasket design means no uncomfortable bridge band, resulting in distribution of pressure evenly over the cheekbones and forehead, reducing the risk of headaches and 'goggle eyes.'
The Aquaviz mask lenses have a scratch resistant coating on the outside for durability and fog-resistant coating on the inside to stop them steaming up during use. The lenses also block 100% of the sun's harmful UV rays and the prescription inserts are available with clear lenses for optimum visibility in low-light or polarized lenses for use outdoors and in bright sunlight.
Aquaviz prescription swim masks and prescription dive masks start at only $69.99 / £39.95 including Snap-in insert fitted with CR39 single vision lenses, fog-free wax to prevent misting on the prescription lenses, and mesh carrying pouch. Consumers simply select their mask color and type, along with their prescription and payment information at http://www.Aquaviz.com for worldwide shipping.
"As a lens wearer who lives an active lifestyle, I essentially invented Aquaviz for myself," admits Bob Forgan, optic expert and the man behind Aquaviz. "However, it turns out it is affordably perfect for any of the hundreds of millions of eyeglass and contact lens wearers worldwide who want to enjoy watersports safely with clear vision."
Forgan started snorkeling around the same time he began training for triathlons and found himself up against several hurdles for a prescription eyewear solution that worked in and around water. Optometrists and the FDA highly advise against wearing any contact lenses, including disposable ones, in the water, even with a mask or goggles. Infectious microbes that live in salt, fresh and even heavily chlorinated water tend to quickly thrive behind and around contact lenses, which can lead to temporary or permanent blindness.
His options were to try to find a bulky mask that would fit over his glasses somehow, spend a small fortune on a custom mask to match his complex prescription, or if he didn't have astigmatism make do with an inferior, off the shelf mask that didn't match his prescription. Then he realized he would have to do it twice – once for his dive mask and again for his swim goggles.
Aquaviz Snap-in prescription inserts interchange between the prescription dive mask and prescription swim mask, plus will work in future planned prescription active eyewear products including sunglasses and prescription snow goggles as part of the Sportviz product range.
For more information visit http://www.Aquaviz.com or keep up through Facebook (/Aquaviz) and Twitter (@Aquaviz).