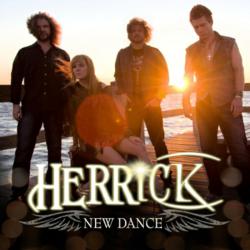 Our music distinguishes us from other artists. Our sound is not the usual 'Country' sound out of Nashville.
(PRWEB) March 02, 2013
Live web streaming portal iWantJam recently published the latest installment into its 'Artist Spolight' series on Country band Herrick:
http://www.iwantjam.com/artist/HERRICK
When one is trying to describe a band that doesn't necessarily fit in one genre, has been together for years doing phenomenal things that other bands and artists only dream about, and is so tightly in sync that creativity and extraordinary musical ideas just seem to flow like a leaf on the edge of a lake, then you've come close to accurately identifying the musical genius of Herrick.
Herrick is comprised of four members who have known each other for many years while growing up in Spokane, Washington. In fact, members (and spouses) Donna and Kerry Herrick met on a blind date in junior high and married in high school. Donna is on vocals, and plays the mandolin and guitar, while hubby Kerry plays the bass and lends his vocal talents to the group as well. The remaining members are Jefferson Rogers (guitar, lap steel, banjo) and Jeff Bradshaw (drums and percussion). With intricate harmonies and a distinctive sound that combines the best of folk, rock, blues, and country, Herrick shatters the current country music mold, creating a path for it to observe what a real one of a kind band does. Writing their own music, they've managed to impress the masses, while remaining true to their core values and themselves. The foursome has already been selected to open for acts like Kenny Chesney, Hank Williams Jr., the Zac Brown Band, and Miranda Lambert, just to name a few.
Herrick loves touring as it gives them an opportunity for music lovers to see just what they're bringing. Performing live is a serious task for the band, and they confidently state that each member of the group can burn his or her instrument down to the ground when it comes time to perform. They are all respected as top notch musicians who are serious about giving everything they have to their fans. What's even more surprising is that the group has accomplished it all without a record deal. The band's latest album, "New Deal", won the 2012 IMA award for best country song for "Cry Memphis". Donna could sing a song acapella with her powerful voice and great vocal range and get a standing ovation. But when you listen to her feisty vocals or tender singing backed by her own playing and that of other group members, you know you're dealing with true talent.
Donna Herrick is quick to give praise to her counterparts, confidently stating that, "Jefferson is one of the best guitarists in Nashville or anywhere else for that matter. He's definitely a keeper! Jeff is new to the band. Jefferson brought him in recently and we could immediately see why." The two were in a band together in college. She continued, "Our music distinguishes us from other artists. Our sound is not the usual "Country" sound out of Nashville. I really think it is in part due to our wide span of musical influences. But also, we have to give credit to the love we have to create a song that stands on its own, and that's not just a copy of something that is already out there. Where's the fun in that? There are not many female fronted Country bands out there either."
As far as fan support is concerned, Donna says, "New Dance has been a real accomplishment for us. It took three years and we re-cut the album four times! Life just kept getting in the way with touring, new producers, band changes, studio changes, and new music. Everything got in the way that you would ever think possible. We kept writing new songs and replacing old songs, so there were too many to choose from. We had no label deal, so it was up to us to get the job done. And with no budget, that's not an easy task. We were one of the first Country bands in Nashville to use Kickstarter. Our fans stepped in and paid to finish the album. We were so excited (and still are) that we can say our fans wanted it that bad! Everyone thinks that their fans are the best, but ours really are!"
iWantJam is a brand new type of music site that aims to connect musicians and fans worldwide through live shows, video streaming and social media. Artists will be able to connect with their fans on a much deeper level than just a profile page and music button, thus offering far more than a promotional device, but a unique experiential connection. Register your artist profile and join the online live music experience of iWantJam!
http://www.iwantjam.com