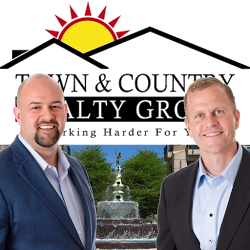 What we value most, as we serve clients with their real estate needs, are the lasting relationships we build with our clients and friends.
Washington DC (PRWEB) March 11, 2013
The Town & Country Group was awarded the "Best of the Best" designation for excellence by Follow Media Consulting, Inc. in the category of Northern Virginia Realtor. This award signifies the continued commitment and dedication of the area's best in real estate business.
The Town & Country Realty Group is a realty business located in Northern Virginia. Their service coverage also includes the areas of Alexandria to Vienna. The principal founders are friends and Realtors, Matt Elliott and Pat Flynn. Both have enjoyed successful careers with over 18 years combined experience serving Virginia residents. They have been dubbed as Market Experts by fellow Realtors and clients because their knowledge and expertise is unsurpassed. Their commitment is to offer buyers and sellers an unparalleled level of service with attention to every detail.
The Town & Country Realty Group is committed to their core belief in unparalleled service, that is, they are committed to "working harder for the client!" Home buyers, sellers, real estate investors, first-time home buyers, move-up or downsizing – all have come to rely on the professional knowledge, expert opinions, and incredible service given by the Town & Country Realty Group's team of Realtors.
If someone is buying or selling a home, investing in real-estate, or just wants to know what they're Virginia property is worth, contact Town & Country Realty Group today. Visit their website at http://www.townandcountryrealtygroup.com or call them at 571-281-8696.
About Follow Media Consulting, Inc.
Named one of the best SEO companies by Jonas Marketing, Follow Media Consulting, Inc. is a rapidly growing worldwide firm of SEO, Social Media, and Mobile Marketing Professionals. Follow Media Consulting, Inc. headquarters is located in Richmond, VA. However, our professional team is networked across the world, with regional offices across the United States, in the United Kingdom, Canada, Australia, France, South Africa, the Philippines, and India.