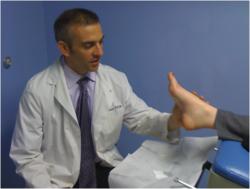 Washington DC (PRWEB) March 08, 2013
Arlington Foot and Ankle was awarded the "Best of the Best" designation for excellence by Follow Media Consulting, Inc. in the category of Podiatrist in VA. This award signifies the continued commitment and dedication of the areas best in podiatry services.
For almost two decades, Arlington Foot & Ankle has offered personalized footcare or podiatry services to patients of all ages. Practicing physician, Dr. Ben Pearl offers the most up to date, innovative products and procedures for the treatment of a wide range of issues.
A ten year resident of Arlington, Virginia, Dr. Ben Pearl has been a practicing physician in the Washington, DC Metro area since 1992. Dr. Pearl is a fellow of the American College of Foot & Ankle Surgeons as well as board certified by the American Board of Podiatric Surgery as well as a consultant for the National Institutes of Health. He offers foot and ankle care to patients of all ages.
Dr. Pearl has a special interest in sports medicine, which is enhanced by his own participation in running, bicycling, and ski instruction. "Dr. Pearl has been working with me on some foot issues over the past year and I've seen him basically revamp his entire approach to service and care. He and his staff are very thorough, on time, and in constant communication with me about my progress," as per Rob, a snowboarder and a longtime patient of Dr. Pearl.
Arlington Foot and Ankle strives to give their patients the time and attention they deserve. They treat their patients as a whole person – not just their feet and they are committed to providing care in a friendly environment. Arlington Foot and Ankle is also committed to and take great pride in offering exceptional podiatric care to their patients of all ages, whether it is preventative, conservative or surgical treatment .
Visit their website at http://www.arlingtonfootandankle.com/ or call 703-516-9408 for details and appointments.
About Follow Media Consulting, Inc.
Named one of the best SEO companies by Jonas Marketing, Follow Media Consulting, Inc. is a rapidly growing worldwide firm of SEO, Social Media, and Mobile Marketing Professionals. Follow Media Consulting, Inc. headquarters is located in Richmond, VA. However, our professional team is networked across the world, with regional offices across the United States, in the United Kingdom, Canada, Australia, France, South Africa, the Philippines, and India.