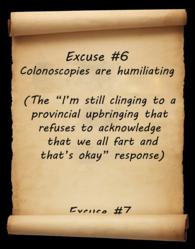 The goal is to get us all to a point where there is no doubt as to when, if or how you should get a colonoscopy, then inspire those who should get one, to take action.
(PRWEB) March 01, 2013
When Ali heard that March was National Colorectal Cancer Awareness Month, she decided to jump in and do her part to ensure no one else makes the same, near fatal mistake she did.
Ali reached out to health experts, survivors and colorectal health support agencies such as the CDC, The Colon Club, Chris4Life, Fight Colorectal Cancer and others, to amp up the volume of the message "Take it from me, get screened."
Throughout the month, there will be interviews, Q&A sessions with health experts, PSA's and other entertaining, informative video and audio clips posted daily on The C Card and Me Website, Facebook page and Twitter account.
You're too young or have no family history of colon cancer, so this doesn't apply to you, right?
That's exactly what Ali Gilmore thought, when at age 46, she was referred to a GI specialist after ongoing complaints of fatigue, rectal bleeding and unusual cramping, but when the GI specialist concurred that it was more likely signs of general wear and tear from aging, stress, poor diet and exercise habits, she was more than happy to accept that reasoning and canceled her screening.
"These are all symptoms that can be easily explained away, especially if you don't have a known history of colon cancer in your family, so I gladly took that as an excuse to save the $300 insurance co-pay and canceled the colonoscopy" Ali explained.
Nearly a year later, when the symptoms became unbearable she had the colonoscopy rescheduled, but by then, the cancer had already spread from her colon to her left lung, leaving her with a daunting diagnosis of stage IV colon cancer. "It took nearly 2 years, a Sigmoidectomy, 3 rounds of chemo and Cyber Knife surgery before I was in the clear. I often wonder how much of that could've been avoided if I'd just kept that original screening appointment?" Ali said.
The campaign will address the top 10 excuses people make for not getting a colonoscopy. The list will be posted on the home page of The C Card and Me website from March 1st-31st. Click on any excuse and it'll take you to a well thought out and compelling response. The goal, "to get us all to a point where there is no doubt as to when, if or how you should get a colonoscopy, then inspire those who should, to take action." Ali stated.
"That's where The Colon Club and the others come in to play. These groups have done such an outstanding job of creating sites, promoting prevention through survival stories and PSA's, that it made complete sense to cross campaign by including their work in the 'Take it From Me' series." Ali added.
Ali will also continue her Q&A Monday Giveaways on The C Card and Me Facebook page with an emphasis on educating its fans and followers on colorectal cancer prevention.
The C Card and Me, 2nd edition, recently launched and is available on Amazon.com and at bookstores everywhere.
About Ali Gilmore
Ali Gilmore is a freelance photographer, singer/songwriter, geek and author of The C Card and Me - How I beat stage IV cancer (to a pulp). Originally from Seattle, Washington, she now resides in the coastal town of Oceanside, California.
Discover more about Ali at: http://www.aligilmore.com
###