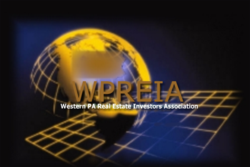 "Retirement doesnt just happen, you need a plan" Josh Caldwell WPREIA President
Pittsburgh, PA (PRWEB) March 18, 2013
The Western PA Real Estate Investor's Association is partnering with Strongbrook to present a new way to reach retirement. The event is free to the public and all are welcome. This presentation is designed for anyone who needs a little guidance to get to their personal retirement goals. This is also a great event for anyone who doesn't have faith in their current IRA or 401k.
The purpose of this presentation is education only. There is nothing to buy; no products will be available for sale. The goal of this event it to expose the working people of the Pittsburgh area to a new and safe way to invest. There will be no hype or false claims, just an overview of the methodology that has allowed Strongbrook to help people across the country to achieve their retirement goals.
The focus of this event will be to educate people about how they can create a retirement income full of passive cash flow. People who prepare for retirement have a lot more freedom that people who allow others to plan a retirement for them. It is no secret that social security is bankrupt. Many people watch their stock holdings stagnate in this bad economy, while others are building wealth with real estate investments. In fact real estate is the vehicle that has created more millionaires than any other asset class in American history. The real advantage of real estate over other assets is that real estate appreciates like a commodity when the economy is doing well, and it produces an income when times are bad. Unlike most other commodities, real estate is not consumed in its use. Real estate can create an empire to be passed from generation to generation.
This presentation will introduce the audience to the "done for you" world of Strongbrook investing. Utah based Strongbrook is a national leader in real estate based retirement planning. This event is geared towards people who have limited or no current real estate investing experience. The investing methods behind this program will be similar in nature to an investment in a Real Estate Investment Trust or REIT.
All attendees will receive a free personalized blueprint to retirement. The customized blue prints are designed to take an investor from their current status to a life of passive cash flow and retirement. Each step along the way is laid out in an easy to follow format.
All guests are welcome and attendees are encouraged to bring friends and family. Seating is limited to the number of people who can safely fit into the room, so register early. This event is expected fill up quickly.
To register or for additional information, please go to http://pittsburghreia.com/ or call the Pittsburgh based investor's association at 412 761 7342.