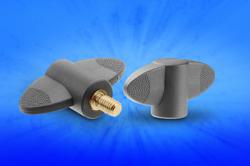 They feature quick and easy installation and removal.
New Hyde Park, NY (PRWEB) March 06, 2013
All Metric Small Parts - aMsp, a leading provider of industrial metric components for design engineering, enclosures, and green engineering, is now introducing a series of wing knobs made of nylon 6 in an anthracite gray color.
Identified as the MMAX2... Series, these knobs feature quick and easy installation and removal. They range in knob width from 35 mm to 70 mm and in overall height from 17 mm to 33.5 mm. These knobs come in two styles. One style has a brass threaded insert, the other a steel zinc plated screw.
aMsp stocks over 36 different varieties of knobs designed for various applications. These include control, knurled, dimpled, lobed, spherical and mushroom types. At the aMsp eStore, CAD models can be downloaded, stock levels checked and quantity discounts can be seen.
Besides knobs, All Metric Small Parts offers a wide array of other 100% RoHS compliant industrial metric components. These include handles, levers, handwheels, hand cranks, grips, latches, locks, catches, hinges, quick-release ball-lock pins, plungers, mounts, and various hardware (screws, washers, etc).
Detailed specifications are contained in catalog M110 available free upon request from All Metric Small Parts - aMsp, 2101 Jericho Turnpike, New Hyde Park, NY 11040-5416. Phone: 516-302-0152 Fax: 516-302-0153 Web: http://www.allmetricsmallparts.com/press/wingknobs.htm

Note to Editor: an electronic version of this release including a 300 D.P.I. 3" wide JPEG image can be downloaded at: http://www.allmetricsmallparts.com/press/wingknobs.htm