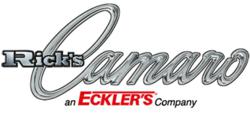 Titusville, FL (PRWEB) March 20, 2013
Eckler's Family of Automotive Parts Companies announces the launch of its new 2013 annual Rick's Camaros Parts catalogs.
Over 50 years ago, Eckler's spearheaded the restoration parts industry. Today, the company offers the largest selection of parts and accessories for Corvette, Chevrolet, Ford, Porsche and Mercedes available anywhere. Over the past 5 decades, Eckler's has led the development of many unique and innovative products – from Disc Brake Conversion Kits for '55 Chevys to Sway Bars for Porsche 911s. These Camaro catalogs highlight some of the thousands of products specific to the 1st through 5th Gen models that Eckler's sells to customers across the globe.
The two catalogs boast over 500 pages of extensively researched parts for your First Gen (1967-69), 2nd Gen (1970-1981), 3rd Gen (1982-1992), 4th Gen (1993-2002) and the hot new 5th Gen Camaro (2010-present). The broad selection of parts will help restore any classic Camaro to factory original or factory correct. Camaros can be made "better than new" with the selection of upgraded and performance parts. Rick's Camaros has the most extensive Camaro restoration parts inventory in the industry at the best possible price - including seat covers, door panels, interior trim, body moldings, emblems, hoods, fenders, patch panels, suspension and much more to help get any project off the ground or running great.
Visit https://www.rickscamaros.com/catalogorder to order free copies of these new catalogs today.