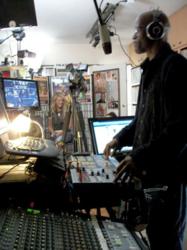 We believe luck is when preparation meets opportunity. We believe a small group of dedicated individuals can go far. We offer no excuses, and we do not accept mediocrity. We believe in the constant struggle for excellence.
Los Angeles, California (PRWEB) March 04, 2013
A new breed has arrived. They are pioneering and unafraid to be different. They are outcasts and misfits. They are creativity bursting forth with new life. They are Us. They are the Nu New. And they are coming to SXSW 2013 as part of an evolving neourban face. Leading the way are organizations like BIT (Blacks In Technology) who were among the early adopters, and leading the way into the world of tech conferences, and creating a path for the soon to be growing immigration of an increasingly diverse community. Pax Stereo Tv will make their initial pilgrimage this March and are looking for connecting and developing new contacts among the nearly 30,000 expected visitors.
So what innovations are these newbies bringing to the party? Use. In many ways the technology is not new and is readily available, but now has been tweaked and repurposed toward new goals. Meet the "Nu New." Platform creator Mario Hemsley is looking forward to informing the folks attending SXSW about what these new kids on the block have been doing. "What we have done is adapted readily available radio station software to run a 24/7 video platform with integrated social media from the top down." That's right, 24/7 broadcasting with integrated Twitter and Facebook, simulcasting on Ustream, Justin Tv, Livestream, and Shoutcast Radio. Tech Guru Mario Hemsley and his co-host partner Victor Allen at Pax Stereo have developed the platform, and are actively managing and operating a number of what they call "Interactive Personal Media Networks" consisting of varying numbers of "custom lifestyle channels". Each channel is fully integrated with YouTube, Twitter, and Facebook and mobile ready.
For SXSW the plans call for regular broadcasts originating from a team of smart phones, but at home the team operates and maintains their own innovative video facility which they have used to broadcast weekly for over three years. The studio system is portable, and features on air multitasker Victor Allen who commands six cameras, two video swithers, one interactive PC desktop and still manages to to host and direct while live and on air. He is considered THE innovator of on air interactive switching techniques. "What he has done is no less than redefining a piece of equipment standard to video production. No one will ever work two video switchers while live as a host on the air. No one. I designed this system, but Vic has taken it to a new level."
While his partner has taken video switching to a new high, Mario has managed to do the same with another of his own special areas of interest; desktop presentation. "Vic and I are both multitaskers. While he does the switching, I am using four PC and sharing two of them actively on the air. We can pull up any website or YouTube video in a instant and show it on air. Add the motley crew that regularly make up our interactive chat room, and the experience is compelling. I have recently used an iPhone's display to show video on air. I like to stay on top of all the emerging trends."
The journey of Victor Allen is a story worth telling. Initially planning for a degree in marketing, Victor ultimately ended up on a roller coaster ride. "I never thought that life would lead me to becoming a DJ, model, stage performer, and internet reality talk show host and producer. It has been a great ride." Indeed it has for Victor. His self produced and directed program, theLZ (Local Zone) has become a community favorite with interviews, full length performances, and behind the scenes studio rehearsals featuring artists such as Robin Thicke, Nelly, Warren Sapp, Eric Benet, Jon B, Teena Marie, Rachelle Ferrell, Sugar Ray Leonard, Stephanie Mills, Kelly Price, Lalah Hathaway, El Debarge, Stevie Wonder, Shark Tank Winners and more.
Tech Guru Mario Hemsley feels that talent and above all persistence has contributed to their ongoing success and consistency. "We believe luck is when preparation meets opportunity. We believe a small group of dedicated individuals can go far. We offer no excuses, and we do not accept mediocrity. We believe in the constant struggle for excellence."
Mario and Victor are proud members of the Prometheus Project (http://www.prometheusradio.org) , the team is now working on providing local community support with a LPFM radio station (http://www.leimertparkradio.com) soon to be unveiled. As part of a national movement, they are promoting awareness of the upcoming availability of licenses now being made available after legislation recently signed by President Barack Obama. As Mario explains, "LPFM is important, and in the event of a natural or unnatural disaster can be an operating voice and source of information to the surrounding communities. The recent Hurricane Sandy has increased awareness and demand for community operated broadcasts. "We can take to the airwaves, or broadcast via the internet. We can uniquely serve our community. Radio just doesn't use what we use."
Pax Stereo's growing network consists of the online community at Pax Stereo Online (http://www.paxstereo.com), the latest mobile integrations at Pax Stereo Mobile (http://www.paxstereo.mobi), the beta experiment Pax Stereo Tv which broadcasts 24/7 (http://www.paxstereo.tv), and the Pax Stereo Business Services (http://www.paxstereo.biz) website.