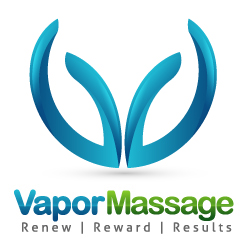 Our clients who provide chair massages at their conference booth find they get more opportunity and time to engage with prospects. It's a very effective method of engagement and pays for itself.
San Francisco, California (PRWEB) March 05, 2013
Vapor Massage recently opened its doors to provide the San Francisco Bay area with a much needed wellness opportunity - a mobile massage experience available to workplaces, offices, conventions, conferences, and SF events.
Ken Buchmann, owner and founder of Vapor Massage, and his expert team of massage therapists have worked diligently to create the perfect ongoing or one-time corporate massage experience. "At Vapor Massage we pride ourselves on delivering superior customer service, with easy to navigate scheduling software and above all else, the highest quality massage experience by professionally trained and licensed massage therapists. Our clients consistently receive the best possible mobile massage experience every single time."
Buchmann, a true believer and champion of the benefits of health and balance in everyday living, combines his degree in marketing with more than 18 years of spa management, hospitality, sales, and corporate experience. Prior to Vapor Massage, Buchmann was the Operations Manager at the world-renowned Kabuki Springs and Spa, where he oversaw all aspects of the client service team, learning firsthand the multifaceted traits necessary for running a successful operation dedicated to creating an excellent customer experience.
Buchmann adds, "Opening Vapor Massage allowed me to combine my two passions, customer service and making people feel good. To be able to share my enthusiasm with those seeking wellness and prosperity is one of the best parts of my job. I love seeing people leave with a smile on their face, feeling relaxed and ready to face the world. Nothing is more gratifying than knowing that we had a hand in that."
Vapor Massage therapists are extensively trained in creating a friendly, welcoming atmosphere that promotes relaxation, focus and energy. Account advisors are thorough and skilled at creating customized packages to meet your needs and budget. Comprised of professionals who truly love massage, customer service and the joy they bring when done with pride, the Vapor Massage team enjoys their work as much as their clients enjoy receiving their services. Specifically, Vapor Massage offers:

Professional, licensed, and insured San Francisco massage therapists.
Welcoming atmosphere to promote relaxation, focus, and energy.
Customizable packages for any need or budget.
Workplace massage and event massage.
All equipment and supplies provided.
Online massage event scheduling.
Professional and friendly advisors to assist you.
Variety of payment options.
Buchmann continues, "We'll handle all the details and arrangements, making this easy and simple for you. Our professional and expert licensed massage therapists arrive promptly, bringing all supplies with them. Only a small space is needed to work our chair magic! We look forward to servicing the San Francisco Bay area and are proud to be a part of this thriving business community."
Vapor Massage specializes in onsite chair and table massages for the workplace, trade shows, conventions and special events. Their professional and experienced therapists perform therapeutic mobile massage that relaxes and uplifts your employees and guests, making your company a more desirable workplace to better retain top talent and bolster employee engagement and productivity. Contact Vapor Massage to schedule your licensed massage therapist today. For more information on Vapor Massage visit the web site at http://www.vapormassage.com, call 415-735-0444 or connect with them on Facebook or Twitter.