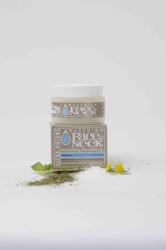 Nobody wants a 'turkey neck'.
Canyon, CA (PRWEB) March 05, 2013
Yerba Maté and Myrrh are more than just a Latin American breakfast drink and gift of Wisemen when used in an herbal and mineral moisturizing cream called FACE&NECK from Awakening Skin Care. Herbs such as these, when combined with concentrated natural minerals, create the basis for the company's hallmark personal care products.
Pairing health-giving botanicals with rare earths benefits the body in ways likely intended by Mother Nature herself, the company contends. Mineral crystals blended with oils and extracts give silky substance and body to creams that otherwise might be slimy, were only oils involved.
"We began nearly 11 years ago to experiment with various ingredients in search of the 'Holy Grail' of facial moisturizers," states Awakening president, Rob Hardwicke. "We wanted something that was elegant but sufficiently beefed up so as to do good things for the long-neglected neck area as well as the face," he notes. "We were on this quest a good two years before Nora Ephron even published her book, I Feel Bad About My Neck: And Other Thoughts on Being a Woman," Hardwicke adds. Once the book came out, the company knew that it needed to create a formulation that would rise to the challenge in meeting the "neck test".
Yerba maté is endowed with a most impressive list of vitamins, antioxidants and minerals, including manganese, potassium and zinc, Vitamins C and B, as well as the antioxidants theophyline, theobromine and quercetin. Myrrh is widely accepted as a natural healing agent known in ancient times as the "Balm of Gilead".
"Awakening had been investigating the benefits of espresso on the health of skin, particularily the hands, and we were fascinated by the notion that coffee, a rich caffeine source taken internally as a drink might also have benefits when used topically on the skin," Hardwicke states. "So if coffee could be good when used externally on the skin rather than consumed internally, we figured that Yerba Maté might offer similar positives."
The company is passionate that its creams create a sensation of silkiness when applied to the skin. "Our creams are silky, not slimy," states Hardwicke. Awakening's use of yerba maté in FACE&NECK helps to energize the skin. Ingredients such as selected amino acids, extract of ivy, a subtly natural aroma blend of peach, grapefruit, acacia, jasmine and vanilla, and Awakening's hallmark use of magnesium and potassium from the Dead Sea round out the formula.
Awakening Mineral Skin Care is a boutique formulator of mineral therapies for healthy skin and has been in business since 1994. It is a California class "C" corporation dedicated to natural, cruelty-free healing and is located in the hamlet of Canyon, CA.