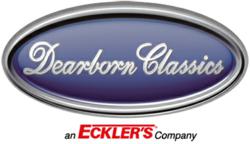 Titusville, FL (PRWEB) March 22, 2013
Eckler's Family of Automotive Parts Companies has just released their all-new 2013 annual parts catalog for 1955-1972 Full-Size Ford, Galaxie and 1957-1959 Ranchero models. Over 50 years ago, Eckler's spearheaded the restoration parts industry. Today, the company offers the largest selection of parts and accessories for Corvette, Chevrolet, Ford, Porsche and Mercedes available anywhere. Over the past 5 decades, Eckler's has lead the development of many unique and innovative products – from Disc Brake Conversion Kits for '55 Chevys to Sway Bars for Porsche 911s.
These Full Sized Ford catalogs highlight some of the thousands of products specific to Ford that Eckler's sells to customers across the globe. Its 176 full color pages are packed with thousands of restoration parts and accessories to restore, modify or upgrade any classic Ford and Full-size Mercury Montego - always at the best possible price. In addition to a comprehensive listing of award-winning interior items such as seat covers and door panels, this new catalog also offers a huge selection of exterior parts, including a full line of glass for many years and applications. Dearborn Classics (an Eckler's Company) stocks hundreds of parts for virtually every corner of the Ford, including brakes, suspension, engine, transmission, and wheels & tires. Visit http://www.dearbornclassics.com today and order a FREE copy of this incredible catalog!