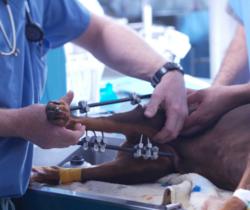 Los Angeles, CA (PRWEB) March 01, 2013
BioMedtrix is internationally known as the leader in canine joint replacements for stifle, elbow and hip replacement systems. They have produced both cemented (CFX) and non-cemented (BFX) total hip replacements, and currently have thousands of successfully implanted dogs and cats around the world.
Although highly successful, a potential complication has been observed in the cementless BFX design, which is subsidence, or sinking of the stem.
ASG founder, Dr. Wendelburg is internationally recognized in vet orthopedics and is particularly well known for his collaboration in developing today's most used canine total hip replacement implants and procedures. Along with routinely performing cementless and cemented hip replacements, and being the designer of a modification to resolve subsidence and decrease femur fractures, he has lectured internationally and is published substantially in the field of joint replacement and hip dysplasia.
Dr. Wendelburg's modification to the hip replacement surgery shows significant advantages, which will continue to improve on already high success rates.
BioMedtrix will be producing femoral implants for the clinical trial in sizes 7, 8 and 9, which will accommodate dog breeds with sizes similar to Rottweilers, Retrievers and German Shepherds.
If your patient is a candidate for a hip replacement and you would like to participate in this new clinical trial performed by one of the most progressive and innovative surgeons in Southern California, you will receive 50% off procedural fees and follow-up visits for one year. In return for the services, pet owners will be required to attend the scheduled re-evaluations and adhere to the follow-up instructions.
Since the procedure has such a high long-term success rate, and the modification is designed to improve the short-term complication rate, the prosthesis and procedure will also both be guaranteed for one year following the implantation. Any revision required within a year of the surgery will be done at no cost to the owner.
Dr. Wendelburg and Animal Specialty Group expect the new replacement design to generate outstanding results. They have high expectations that it will produce an extremely high short and long-term success rate, allowing dogs with hip dysplasia to live functionally and pain-free throughout their lives.
If your patient is a candidate for the procedure, contact Animal Specialty Group at (818) 244-7977 to schedule an initial evaluation, or contact Dr. Kirk Wendelburg with any further questions.