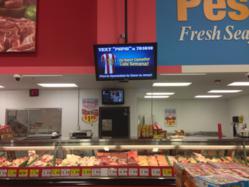 Thousands of viewers are interacting with our 3D screens and its 100% trackable - Joe Benites, CEO 9D Media / Hispanic 3D Ad Network
Los Angeles, CA (PRWEB) March 04, 2013
The Hispanic 3D Ad Network, owned by Los Angeles based 9D Media (http://www.9DMedia.TV) is now guaranteeing results to advertisers. This confidence comes from the fact thousands of viewers have interacted with their "Glasses Free" 3D screens placed in high traffic, high dollar volume Hispanic grocery stores.
Using their mobile device, viewers respond to a "call to action" message by texting a number displayed on the screen in order to play interactive games or, be entered to win prizes which are drawn on a weekly basis. After interacting with the screens, they receive an advertiser controlled message right to their mobile device.
This mix of "Glasses Free" 3D digital signage and mobile marketing is delivering results and its all 100% trackable in real time. Advertisers are furnished with a complete list of the respondent phone numbers and even have the ability to immediately call the person interacting with the screen, if they choose to do so. Respondents are given a chance to "Opt Out" of being contacted at any time.
"If you don't get over 1,000 responses to your approved "call to action" ad on the screen over the course of a 13 week campaign, we'll run the campaign again for you at no charge" says Joe Benites, CEO of 9D Media.
The staff at 9D Media are also working more closely with advertisers to help them develop a 360 degree approach to reaching the Hispanic consumer, using the 3D screen network as a center point. The marketing team also helps fashion the "call to action "offer and must approve it before it is given the guarantee. "Setting expectations is important. For instance, an advertiser can't expect to have thousands respond to an advertisement that says they'll get 10 cents off a $50 pair of shoes or, $2 off a $100 set of tires" laughs Joe Benites, CEO of 9D Media. "At the same time, offering $15 dollars off a $90 pair of tires or, a good discount off shoes could be a potential home run given that most Hispanics shop as a family." Benites continues.
In May of this year The Hispanic 3D Ad Network will be launching their social media platform with some exciting promotional elements that include both online interaction and live events taking place in major Hispanic markets from Florida to California. Advertisers will have the opportunity to tie in with this social media and these events as a key element to their advertising campaign on the 3D screens.
About 9D Media
9D Media is the only Digital Out of Home Signage Company in the world offering "Glasses Free" 3D advertising, specifically focused at targeting the Hispanic consumer. Each member of the staff at 9D Media has extensive experience in the radio, television, movie, online and promotions industry.
Their offices are located at 5900 Wilshire Blvd, 26th Floor, Los Angeles, California 90036.
Phone: (323) 286.1695, Email: Info(at)9DMedia(dot)TV