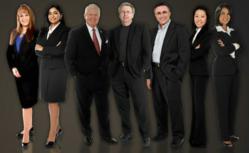 But as important as the job to be done by government in the neighborhoods, the people must also be involved.

Jane Byrne
Rancho Mirage, CA (PRWEB) March 01, 2013
Adrian J. Adams will participate as a roundtable presenter at The Management Trust - Monarch Group Division's 2013 Board Member Event. This year's event is entitled "Law and Order" Homeowners Associations and will follow the format of the courtroom drama television show. The founder of Monarch Group John Handel, will serve as the presiding judge. Mr. Adams along with other legal and law enforcement professionals will lead interactive roundtable discussions on 5 Homeowners Association Case Studies. Board members will be given fact patterns and creatively solve cases through creative discovery methods. The event will be held on March 15, 2013 at Agua Caliente Resort and Spa in Rancho Mirage, California from 8:30 a.m. to 3:30 p.m.
Mr. Adam's will deliberate a case on architectural violations and fines. Board members will follow a given fact pattern and discuss enforcement, hearings, penalties and how to avoid litigation. Other roundtable topics will include Rules, Dispute Resolution, Dealing with Difficult People, and Crime.
The Management Trust is a leading national community association management firm that specializes in serving condo associations and homeowner associations across the United States. With a combined 150 years experience, we are committed to providing the very best customer service to those that work with us. A key element to the success of our services is that we are the only 100% employee-owned firm in the nation. That means that each individual working at The Management Trust has a vested interest in the success of our communities. We go the extra step to provide leadership management to boards that we work with to make sure that all your needs are met.
The Management Trust – Monarch Group provides full service accounting and property management to homeowners associations in Indio, La Quinta, Bermuda Dunes, Palm Desert, Indian Wells, Rancho Mirage, Cathedral City, Palm Springs, Cherry Valley, and Highland, California.
Adrian J. Adams, Esq. is the principal of Adams Kessler PLC, a law firm specializing in the representation of common interest developments throughout California. In addition to corporate and litigation work, Adrian is legal advisor on condominium law and smoke-free housing issues to the Technical Assistance Legal Center, a project of the Public Health Institute. He frequently speaks for industry organizations on homeowners association topics, including legal updates and board educational training programs. He serves as an expert witness on standards of care involving association boards and managers. Davis-Stirling.com, the award winning website and weekly newsletter with a subscriber base of over 14,000 were both created and are written by Adrian Adams.
Adams Kessler PLC is one of California's premier common interest development law firms. The firm represents a mixture of small and large homeowner, mixed-use, senior, commercial and recreational associations throughout California. Adams Kessler PLC focuses on providing its clients with exceptional legal services in a cost effective manner. Their attorneys are extremely knowledgeable about common interest development law and are well qualified to handle the myriad of legal issues faced by community associations and their directors. The firm also provides mediation services under the direction of retired judge and author of the Davis-Stirling Act, Honorable Lawrence W. Stirling (ret.).
###
For more information on this subject or to schedule an interview with Adrian J. Adams, Esq., please contact Nathalie Ross at (800) 464-2817 or nathalie(at)davis-stirling(dot)com.