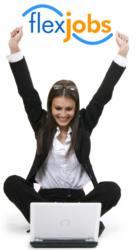 Boulder, CO (PRWEB) March 01, 2013
In response to an internal memo leaked to the press that Yahoo CEO Marissa Mayer plans to cut the technology company's telecommuting program, FlexJobs is offering 50% off their subscription services that help job seekers find flexible employment, including telecommuting jobs.
"Essentially, we are flabbergasted that a company in this day and age would not allow employees to telecommute," said Sara Sutton Fell, CEO of FlexJobs. "Time and time again, studies show that employees are not only more productive, but also happier."
Included in the studies Fell refers to are one conducted by Stanford in 2011 that showed a 15% increase in productivity with staff that did their jobs from home. In addition, The Telework Research Network has sited several facts that companies have reported back in favor of offering the option to telecommute, including, "Businesses lose $600 billion a year in workplace distractions."
"For the record, our entire staff telecommutes and we all appreciate the flexibility," added Fell. "As the CEO, I am very pleased with the productivity and hope to continue to spread the word that allowing employees flexibility is a win-win option."
Job seekers interested in taking advantage of this special discount can enter promo code "YAHOO" when signing up with FlexJobs and get half off on their membership that provides flexible options such as telecommuting job opportunities and part-time jobs in 50+ career categories. In addition, the site offers exclusive discounts, resume help and skills testing, to name a few benefits of joining. This coupon code is valid through 3/3/13.
About FlexJobs
FlexJobs is the leading online service for hand-screened and professional flexible, part-time, telecommuting, and freelance job listings. FlexJobs gives job seekers an ad-free way to find legitimate jobs quickly, easily, and safely. A proud member of the Better Business Bureau, FlexJobs skilled research team provides quality job leads in over 50 career categories, ranging from entry-level to executive, freelance to full-time. FlexJobs is a green, carbon-balanced company which is leading the way to the future of work by promoting telecommuting and flexible jobs that allow people to enjoy work and life in environmentally sustainable ways.
To find out more about FlexJobs, visit http://www.FlexJobs.com.
For media inquiries, please contact Chelsea Gladden, Chelsea(at)flexjobs(dot)com or 1-866-991-9222 x 4.