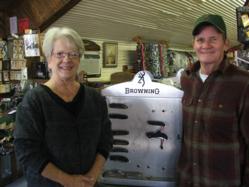 "Most of the month, [Ted] can be found hunting or fishing... working three days a month isn't bad," according to Rita Owen.
Canton, TX (PRWEB) March 01, 2013
Texas-based couple and long-time were patrons to Canton's Old Mill Marketplace prior to opening their own shop in 2002. For over a decade, they have managed their shop bringing their expertise and interests to the public at Old Mill Marketplace.
After years of patronage and enjoying the Marketplace, Ted and Rita Owen decided that they would like to be vendors themselves at Old Mill Marketplace. When they retired from an oil company in 2002, they opened their space. "When we retired, we knew we wanted to do something like this," according to Mrs. Owens, who considers the opportunity a dream fulfilled.
Ted is an avid hunter and fisherman and his expertise is something that they have utilized for their shop. With the more-flexible business structure of Old Mill Marketplace, the Owens were able to open Tarwater Trading Post, where they are able to help people with hunting and fishing interests. The shop is open one weekend a month.
"Most of the month, [Ted] can be found hunting or fishing," Mrs. Owens said of her husband of 43 years. "Working three days a month isn't bad."
The shop's ambiance is part of the Tarwater Trading Post experience, with tin ceilings, a large fireplace and rough wood walls. The store is stocked with a variety of hunting and fishing necessities. A large portion of their inventory is J.M. Browning hunting accessories, including knives, lights clothing and decals. In fact, their shop is listed on the Browning website as an authorized dealer. The shop is particularly busy during hunting season.
Tarwater Trading post is located in The Barn at the foothills of The Mountain on the Old Mill Marketplace grounds. Old Mill Marketplace Complex features 7 Pavilions, The Village Shops and The Mountain. To learn more about Old Mill Marketplace and their First Monday Trade Days, including all of their vendors and how to become a vendor, visit http://www.oldmillmarketplace.com.
Texas Biz Solutions, with offices in both Dallas, Texas and Tyler, Texas, develops online marketing solutions for small businesses offering basic to comprehensive online marketing strategies for a competitively low price. These solutions include improving search engine optimization for top placement in Google+, building custom websites that integrate social media outlets, including Facebook, Twitter and YouTube, as well as custom management of online design and marketing strategies. For more information about Texas Biz Solutions, visit http://www.TexasBizSolutions.com.