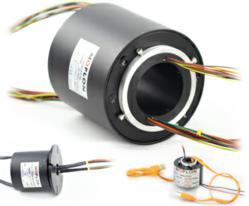 Designed for through bore hydraulic or pneumatic rotating shaft installation
Shenzhen,China (PRWEB) March 04, 2013
Now, Moflon Technology introduces their new range of slip rings that have several advantages over the traditional models. By installing these new slip rings, industries can run their production units in a maintenance-free manner without experiencing any downtime.
Moflon Technology announces the introduction of a new range of slip rings for their worldwide customers. The company reveals that the new slip ring solutions have been developed after analyzing the needs of the production and commercial units of this present era. According to the company sources, they have been aware of the global challenges that the production units are facing in order to meet their production related demands and after a significant months' research, Moflon has introduced their new products. All senior management professionals at Moflon are very confident that their global customers will surely appreciate their new product and will definitely be benefited from it.
The company spokesperson underlines the advantages of their new product offerings and maintains that the new slip rings will have several advantages in comparison to a traditional slip ring connector. He reveals, "Traditional models cannot guarantee the superior performance that our new models are intended to deliver. These new products are perfect to operate in harsh environments and keep delivering quality products without any downtime. We have used robust mechanical components and fiber brushes so that these slip ring solutions can keep working incessantly, eliminating the chances of downtime."
Moflon, in its product release, maintains that their new slip rings can keep operating in a maintenance-free manner. According to them, it helps decrease the operating costs of the companies, and by eliminating the chances of downtime, they protect these companies from losses. The company maintains that in this tough economic time, most companies want to reduce their cost of operation. At the same time, non-functioning of their production units even for a single hour may result in huge losses. This is the reason why Moflon Technology introduces new products for their clients utilizing better components and the latest technology so that all manufacturing units can achieve long-life and maintenance-free production advantages for their successful business venture.
For more details about their new range of slip ring solutions, one can visit their website http://www.Moflon.com/.
About Moflon Technology
Moflon Technology was founded in the USA in 1987. The company has been successfully developing commercial and industrial applications for over 30 years for different industries. They have also been catering to the aerospace and military sectors for over 20 years now. All these products have been developed for high performance environments and help meet flexible production related requirements of the companies.