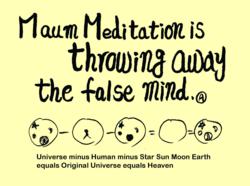 One must live knowing the state where life and death does not exist in order to be complete.
Sunnyvale, CA (PRWEB) March 05, 2013
The much anticipated website about the life story and teachings of Woo Myung was launched at http://www.woomyung.org in February 2013.
Through deep introspection and meditation, Woo Myung achieved enlightenment in January 1996. That same year, he founded Maum Meditation in order to help others also achieve completion and live as Truth.
Maum Meditation is the method of recovering the true mind that originally existed and continues to exist eternally by throwing away the false mind, which is an illusion and stress itself.
Woo Myung, a world renowned author, poet, illustrator, and lecturer, has been contributing to world peace by awakening many people to their original nature.
Since that time, Woo Myung spent many sleepless nights writing words of truth as a means to spread Truth more widely so that people can lead the life of Truth.
Of his numerous works, 10 of his books have been published, many of which have become best sellers and are in the process of being translated into 10 languages.
Remarkably, each of his writings is done in one sitting and his first draft is always the final draft.
Having devoted his life for people to becoming true, Woo Myung was awarded the Mahatma Gandhi Peace Prize and appointed as World Peace Ambassador by the International Association of Educators for World Peace (IAEWP, UN-NGO).
Recently, Woo Myung's latest book "Stop Living In This Land, Go To The Everlasting World Of Happiness, Live There Forever," was nominated as a finalist for the 2013 Montaigne Medal by the Eric Hoffer Award for Books.
The winner is scheduled to be announced later this year.
Woo Myung's book also hit the #1 Amazon Best Seller list in November 2012 and was the Amazon Top 100 Best Selling book for all of 2012.
Though expressed in a variety of ways, Woo Myung's message has always been the same: Now is the time for human completion and the method to achieve this is through subtraction.
Subtraction is the method to getting rid of the stress and burdens that exist within one's own mind. Maum Meditation offers the precise and scientific method in a simple way so that anyone can practice and personally confirm as he or she progresses.
Once people become complete, they become free from the stress and burdens and live with true happiness, peace of mind, and wisdom.
Woo Myung explains, "One must live knowing the state where life and death does not exist in order to be complete."
Maum Meditation is located in 34 countries and nearly 340 centers with new centers opening monthly.
Woo Myung has also written songs of enlightenment to make Truth more easily approachable. Among his collection of works are more than 500 pieces of calligraphy in his unique and original style.
To find out more about Maum Meditation and its Founder Woo Myung, please visit http://www.woomyung.org.