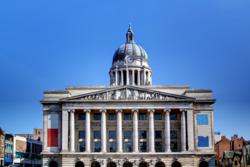 Nottingham is an exciting place for business start-ups right now
Nottingham, Nottinghamshire (PRWEB UK) 10 March 2013
A new report from company formation specialists, Duport.co.uk shows there was a rise in net company growth in Nottingham during 2012.
A total of 1420 companies were added to the company register for Nottingham in 2012. This number represents growth of 40.3%, just slightly behind UK average figure of 43.8%. In addition, company formation in Nottingham rose sharply during 2012, with 3762 new company formations - more than any other year on record for the city.
More than £3.5 billion is currently being invested in Nottingham, a combination of public and private sector funds, covering transport, infrastructure and the built environment. The ongoing regeneration of the area could be a factor in the high level of net company growth and company formation.
Managing Director of Duport.co.uk, Peter Valaitis commented:
"Nottingham is an exciting place for business start-ups right now. There is a huge amount of regeneration and redevelopment going on, which can only benefit new companies setting up in and around the city."
The Duport Business Confidence Report for Nottingham provides accurate data and statistics on the local economy of the area. More information can be found at http://www.duport.co.uk/nottingham.
Duport Business Confidence Reports are generated and released by Duport Associates Ltd. The data contained in these reports is assimilated and analysed by Duport using public record data from sources including Companies House, Office for National Statistics and Ordnance Survey. Duport Associates Ltd is a leading UK company formation agent, established in 1997 and registering around 10,000 new companies each year through its Companies House approved software.