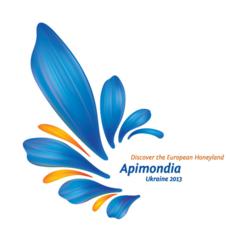 Discover the European Honeyland!
Kyiv, Ukraine (PRWEB) March 04, 2013
The XXXXIII Apimondia International Apicultural Congress will take place between the 29th of September and 4th of October, 2013 in Kyiv, the capital of Ukraine, supported by the President of Ukraine Victor Yanukovych. It will gather both amateur and professional beekeepers, leading experts of beekeeping sector and specialists in related areas, scientists, representatives of commercial sector, non-profit organizations and government — anyone interested to explore the topic of beekeeping and willing to share their experience. Participants will have an opportunity to get the latest first-hand scientific information from researches worldwide, check-out the cutting-edge technological innovations in beekeeping, present their products - ranging from honey and mead to the most advanced beekeeping equipment, establish new contacts with exporters and importers, listen to scientists' reports, communicate with like minded people, and discover Ukraine — the true European Honeyland.
The key program of the Congress will last five days and cover:

Scientific Conference themed "Beyond the Hive: Beekeeping and Global Challenges" that encompasses plenary sessions and symposiums of the Apimondia commissions and with the participation of over 800 scientists from around the world to present about 300 scientific papers and 800 poster presentations;
The International Exhibition ApiExpo-2013 featuring over 200 participants from all over the world;
World Beekeeping Awards, the foremost global competition in excellence, creativity and innovation in beekeeping;
Various cultural and social projects, including "The Innovative Technologies in Beekeeping", "The Apimondia Open Public Fair", "Apimondia for Children", "Famous Scientists and Figures in Beekeeping", "Modern Art Gallery", "Beekeeping Museum", a range of educational and practical events, and many more.
A number of Technical, Pre- and Post tours will provide a possibility to sight-see both beekeeping and tourist places of interest in different parts of Ukraine — to discover this truly fascinating European Honeyland that is considered to be the largest beekeeping country in Europe and in the world's top five with the annual output of honey reaching 75,000 tons and 400,000 beekeepers tending 3.5 million bee colonies. This goes along with very affordable costs for living, transport and meals, which are much lower in Ukraine than in most European countries.
The broader mission of the International Apimondia Congress is to discover how beekeeping can contribute to solving the global problems and to draw attention of the public worldwide to a healthy lifestyle through using beekeeping products.
For more information please visit http://apimondia2013.org.ua/en/
About Apimondia Federation
Apimondia is the International Federation of Beekeepers' Associations and other organizations working within the apiculture sector that integrates leading specialists, scientists, businessmen and public figures of beekeeping industry. Today members of Apimondia are represented by different beekeepers association from more than 115 countries. Every two years since 1897, Apimondia holds in different countries International Apicultural Congresses that are the largest events in the world of beekeeping. International Apimondia Congresses have an aim to give an opportunity of exchanging of information, personal experience and achievements among beekeepers, scientist, honey-traders and equipment manufacturers, agents for development, technicians and legislators. The right to host the Congress has to be won in competition among the other applicants by the claiming country.