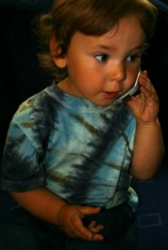 Austin, TX (PRWEB) March 02, 2013
WhoHasTheRemote.com is aware of the perils of technological over-consumption. Going back at least to the Atari craze, electronics have swallowed up the spare time of tweens and teens in the industrialized world. Now, mobile phones are wielding an even greater addictive potential amongst underage consumers.
A new piece on the topic in Channel NewsAsia cites recent figures by the South Korean government, which estimates that 2.6 million of the nation's inhabitants are smartphone addicts. The problem is easy to comprehend, given the portability and all-around convenience of iPhones and Androids. As the article further reveals, kids are forsaking playground time for smartphone use. Even at dinner tables, miniature, digital handhelds are becoming common fixtures.
With all the functions that mobile phones provide, it is likely that such devices could usurp many common activities for years to come. With a smartphone or pad, users can socialize; play games; surf pages; watch videos; and even shop from virtually any location, with no need for cords or outlets. The functions performed by smartphones account for all activities of interest to youngsters – barring sports, which lose their appeal in the sedentary culture that technology sometimes facilitates.
WhoHasTheRemote.com states that parents must take a proactive role in curbing smartphone addiction in youngsters. The example starts at home, where usage of smartphones can be restricted to one hour per evening following supper and homework.
Technological oversaturation is even more an incentive for outdoor family home activities, where parents and children forgo dish network channels and instead play games of Frisbee with their pets.
WhoHasTheRemote.com believes that discipline and restraint are matters that are best overseen at home. To ensure that children engage themselves in studies and outdoor activities, smartphone use should be restricted to select periods each day.
About Who Has The Remote?:
WhoHasTheRemote.com weighs in on various matters that impact the lives of average families. From consumer issues to personal activities, the site offers advice on how to cut wasteful spending and idle time-consumption while embracing all the best things in food, games, and entertainment.