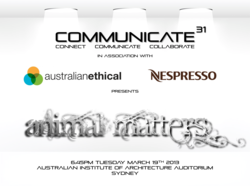 We are empowering the Australian business community with vital information concerning animal welfare and the wider implications for business sustainability. — Clare Mann
Sydney, Australia (PRWEB) March 01, 2013
Communicate31 calls it, "Bridging the gap between Animal Welfare Philanthropy and Entertainment. Commencing with the first in a series of unique and innovative message driven profile events on March 19th, the Sydney-based organization has established a "Who's Who", in the animal welfare organization speaking sector within Australia and abroad, and combined this element of welfare activism with profile entertainment artists, who also have a strong presence as animal advocates. The result, Animal Matters.
Included in the star-studded line up is high-profile animal activist, Animals Australia Campaign Director and Chief Investigator, Lyn White, leading the speaking part of the event. Also present is Founder and President of the Humane Education Institute (HEI) direct from the USA on her national tour of Australia, Zoe Weil, a highly sought after and international speaker on Humane Education. Natalie Houghton, Chief Executive Officer of The Jane Goodall Institute Australia, will speak about the enormous effect her mentor and organization head, Jane Goodall, has had on the planets sustainability and her undeniable compassion for sentient beings, particularly, the chimpanzee, over a 60 year career spanning the globe.
Aria award-winning Australian superstar, Missy Higgins will kick off the event with an awe-inspiring rendition off her hit song, "Hidden Ones", and also manage to have a one-on-one at the conclusion of the event with host, Clare Mann.
CLARE MANN, Managing Director of Communicate31, eminent organisational psychologist, existential psychotherapist, international speaker, bestselling author of numerous corporate, personal development books and programs, including "The Myths of Life and The Choices We Have", and her latest offering in August 2012, Communicate, has also found time to provide her services as Vice President to the WLPA, World League for the Protection of Animals. A devout animal welfare advocate, inspirational speaker within the animal field, and a strong voice to be reckoned with, within the Animal Welfare community in Australia, Mann has engaged the services of an Australian producer and creative director to get the message across to a wider audience, namely corporate chiefs, influentials, politicians and decision makers in a bid to inform, educate and through entertainment, bringing the message of a more compassionate world for animals through the live event forum.
"It comes to this, Mann says, empowering the Australian business community with vital information concerning animal welfare and the wider implications for business sustainability". And to do that, she will go to any lengths to get the message across.
Clare is passionate about creating a more conscious world in which all animals - human and non-human are treated with respect and dignity. She believes that in order to lead others, we must consciously lead our own lives and take responsibility for the effect we have on the world. Through conscious leadership principles she believes that we can create a different level of thinking to solve the unprecedented challenges we face today.
With a VIP selected guest list, it is by invitation only to the event at the Australian Institute of Architects Auditorium on March 19th. Communicate31 will donate a percentage of sponsorship dollars to five Australian Animal Welfare Groups in addition to a heavy awareness theme throughout the event and well after the house lights go down.
A special pre-record from Dr. Melanie Joy, Co-founder and President of CAAN, the U.S based Carnism Action Network, will also be presented at the event to highlight her forthcoming New Zealand and Australian tour, also produced by Communicate31, later this August.
An unforgettable way to spend an evening, inspirational, informative, and with an entertainment twist. Lucky if you can get tickets!
For further or additional information on the news that is the subject of this amazing event or for other details on Communicate31 upcoming events and initiatives, contact our Publicity Department or visit http://www.communicate31.com