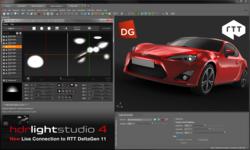 The RTT high-end visualization is impressively enhanced by the tools available in HDR Light Studio.
London, UK (PRWEB UK) 12 March 2013
Lightmap announces the HDR Light Studio 4 Live connection for RTT DeltaGen 11.0.3. The connection brings full support for HDR Light Studio including the revolutionary interactive LightPaint feature allowing DeltaGen users to click directly within their rendered viewport to place and select lights on HDR Light Studio's canvas.
Mark Segasby, Lightmap CEO says "We are proud to release the HDR Light Studio Live connection for DeltaGen 11.0.3, bringing the power of our LightPaint feature into one of the market´s most prestigious high-end tools in professional visualization. DeltaGen is an amazing tool for creating real-time content and with the ability to perfectly light shots using HDR Light Studio's latest tools, stunning quality still shots of interactive content are possible. We look forward to the results that DeltaGen users will produce with our new scene lighting tool."
Jan Ohlenburg, RTT product line manager DeltaGen commented "The RTT high-end visualization is impressively enhanced by the tools available in HDR Light Studio. By making use of our brand new SDK, Lightmap was able to deliver a very quick and tight integration with RTT DeltaGen. The plug-in allows users to work within their familiar DeltaGen environment and seamlessly call on the HDR Light Studio connection where needed."
The additional features in HDR Light Studio 4 allow DeltaGen users to:
            • Create professional studio lighting with real studio lighting captures
            • Control existing HDRI maps with local adjustments to exposure, color and saturation
            • Place additional lighting into existing HDRI maps
            • Create convincing HDR lighting for CG objects on photographic backgrounds
            • Increase the dynamic range of LDR maps
Along with LightPaint, the latest release brings significant additional benefits including light blend modes, custom falloff curves, SunShade and an advanced colour system. This makes HDR Light Studio 4 a powerful new tool set for all DeltaGen users.
Pricing and Availability
Lightmap HDR Light Studio 4 including the RTT DeltaGen Live connection is available immediately for £599 / $999 / €799 per floating seat through the online Lightmap store or any Lightmap Authorized Reseller.
About RTT
RTT is the leading, one-stop-provider of high-end software, consulting and creative services in professional 3D visualization. As a strategic partner, RTT offers sustainable, effective and seamless process support across the entire product lifecycle with its holistic approach. As a result, products are developed faster and more cost-effectively while time-to-market is significantly reduced. Through creative, photorealistic CGI implementations, RTT enables innovative sales and marketing advantages and new dimensions of emotional brand staging. The Group´s customer-base includes companies like Adidas, Audi, BMW, EADS, Electrolux, Ferrari, General Motors, Harley-Davidson, Porsche, The North Face and Volkswagen. RTT AG was founded 1999 in Munich and is listed on the Frankfurt Stock Exchange (Xetra: R1T; WKN: 701220; ISIN: DE0007012205) with about 700 employees at 14 offices worldwide (as of December 31, 2012). For more information, visit http://www.rtt.ag.
About HDR Light Studio
HDR Light Studio is the de facto standard for interactive creation and control of image based lighting for computer graphics. Launched in 2009, the software provides a fast and efficient way to light a 3D scene with photo-real results, while fitting into all major 3D rendering pipelines on the market. It is used worldwide by 3D artists lighting CGI shots of cars, jewelry and all other rendered models and in animated TV commercials and movie VFX. HDR Light Studio creates a single HDRI map containing the entire lighting for a scene providing total realism with illumination and reflections working in harmony. This innovative, patents pending, approach to lighting has allowed manufacturing, visualization and entertainment companies to bring their creations to life with photo-real perfection.
About Lightmap
Lightmap Limited is a leader in photo realistic lighting design tools for CGI and VFX professionals. Lightmap software enables artists and designers to create perfection and control reality when lighting their vision.
HDR Light Studio is a trademark of Lightmap Limited. All other brand names, product names, or trademarks belong to their respective holders.