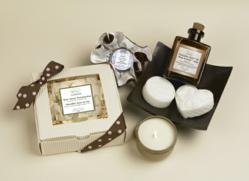 The St.Grape range is completely 'natural,' containing no harmful extracts or chemicals (such as parabens) commonly found in 95% of alternative skincare products, which have recently been linked to cancer causing tumours in worldwide studies.
Berkshire and London, United Kingdom (PRWEB UK) 1 March 2013
St.Grape, a Canadian brand of skincare products is officially expanding to the UK with the help of Berkshire-based marketing agency, Marketing Empire, who recently entered into a two year contract with the brand.
According to Deren Stevens, Marketing Director at MarketingEmpire.co.uk, they expect to see St.Grape rise to the top of the beauty industry within the next 2 years.
Stevens states "having looked at several proposals in the beauty industry, we decided to take the St.Grape brand into our portfolio under a 2 year contract. Their management have an incredible ambition for worldwide distribution, backed by their high-quality range of luxury 'natural' skincare products. For us, it seemed like a win-win situation to work with a brand that has huge aspirations for the future."
Marketing Empire will be handling imports, logistics, public relations and sales activities for St.Grape in the UK from April 2013. The company's warehouse plans on receiving the first shipments of skincare products in late March, but a strict screening and selection process for prospective retailers will prevent the products from being available to the public until the end of April. Routes to market in USA and the rest of Europe are being planned by the two companies for the end of 2013.
Several high profile celebrities have already come forward to endorse the natural skincare brand; Marketing Empire are in talks with retailers and distributors across the country to get the range stocked in high-street stores and interested stockists are asked to make contact with the agency.
The St.Grape brand is focused on bringing environmentally-friendly skincare products to the luxury beauty industry. The brand attributes its success in Canada to the effective all-natural ingredients in their products, without the use of any traces of harmful chemicals.
"St.Grape are proud to have certifications to classify the ingredients in all of our effective skincare and beauty products; particularly, that our range is completely 'natural,' containing no harmful extracts or chemicals such as parabens commonly found in 95% of alternative skincare products, which have recently been linked to cancer causing tumours in worldwide studies," states a representative from St.Grape.
Marketing Empire fought off rival marketing agencies from around the world to secure the initial 2 year contract with the Canadian company, thought to be worth in the region of £2-£3million. Using innovative new marketing methods, cost-efficient advertising tools that focus on ROI and tangible results, Marketing Empire were able to put together a competitive proposal to bring the brand to the UK and handle all activities for this period.
"Our team focuses on marketing activities that bring a return-on-investment to each client we work with, using effective, tested and innovative new methods. We are proud to have put together a proposal that made us stand out from other agencies, having gained the trust of the St.Grape management board" confirms Deren Stevens of Marketing Empire.
With current trends in the marketplace, people are becoming more conscious of the products and chemicals they are putting in their body and on their skin, especially with the release of new studies showing that ingredients in common skincare products being linked to cancer causing tumours.
Interested parties can view the product range at http://www.SaintGrape.com, available in UK stores in April 2013.
--END--
Further Media Information:
PR CONTACT:
Deren Stevens, PR Officer.
http://www.MarketingEmpire.co.uk
deren.stevens(at)marketingempire(dot)co(dot)uk
0208 133 3318
Company:
St.Grape Beauty Products, based in Canada - full Product Range will be available in UK retailers in April 2013.
Website:
http://www.saintgrape.com
Information:
For high-res photos, media interviews, or further information please contact the UK-based PR Director for SaintGrape, Deren Stevens (above) by email. You have full permission to re-write this article to suit your online/offline publication, please email Deren Stevens to confirm you will be doing so in order for us to track media campaigns. TV/radio appearances are also welcomed.
St.Grape have invested heavily into R&D since 2010 to ensure the product range is safe, effective and naturally good for the body. For previous press releases and research, please email Marketing Empire.
Marketing Empire are run out of 2 offices in the UK - Bracknell (Berkshire) and London. The company focuses on marketing efforts that have high ROI for their clients. A 2 year contract was awarded to the agency by St.Grape after showcasing several proposals and routes to the UK market, whilst lowering the overall costs for the Canadian brand.
145-157 St John Street, London, EC1V 4PW.
Office: +44(0)208 133 3318