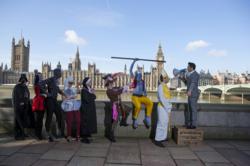 "For businesses, this is a massive innovation as they can now see in real-time what people are thinking about them – completely free of charge - and act as they see fit."
(PRWEB UK) 1 March 2013
The world's very first telephone number that connects consumers to brands has launched – 66099. Whatever the feedback – good or bad – consumers can now get on their soap box and rant or rave about it in real-time on their mobile phone by calling, texting or sending an MMS to 66099.
Businesses can now gain valuable insight into where they are going right – and where they may be going wrong when the number launches for the first time this week.
The concept, designed by tech company, Rapide (http://www.rantandrave.com) is absolutely free to brands. It provides each and every business the chance to view all of their customers' rants and raves in a bespoke dashboard that they can log into at any point and see how they're being perceived. The system uses natural language processing and text analytics to understand each comment and highlight if they're positive or negative. Executives will be able to view their dashboard and quickly and easily see how and why they are going right – or wrong.
Rapide is also offering businesses the opportunity to upgrade to their Enterprise package which helps companies look more closely at feedback and act upon it. Amongst a wealth of add-ons, the Enterprise dashboard is uniquely tailored for their type of business and each company will receive access to state-of-the-art SWOT analysis tools that enable companies to react quickly to comments, spot areas in need of improvement and rescue unhappy customers before they go to their competitors. The technology is even sophisticated enough to understand customers' expectations about how they would like their feedback to be responded to.
The telephone number is absolutely free to call from a mobile and texting or sending an MMS is standard network rate, often included in a person's phone bundle.
Mike McMaster, Head of Client Services at Rapide, the company behind Rant & Rave (66099) says: "Businesses want to know what their customers think about them. Staff often receive verbal compliments or complaints or many businesses produce surveys which they ask customers to fill in – but these don't provide enough feedback that they can actually act upon. By providing consumers with a free telephone number for them to call they can rant or rave about a brand as much as they like; they are not restricted to a space in a box and they don't have to log on to a website and fill out a complaints form.
"For businesses, this is a massive innovation as they can now see in real-time what people are thinking about them – completely free of charge - and act as they see fit."
Rapide was set up in 1999 by Nigel Shanahan, an expert in CRM (customer relationship management) and mobile technology. He came up with the idea for Rant & Rave in 2008. He says: "I was sat in a service station with a cup of awful coffee, twiddling my phone in my hand. I was watching someone push a broom around, not getting any of the rubbish off the floor. The coffee was expensive, the toilet was filthy and I thought, how on earth does the consumer get their message across to the head of the company that the service is terrible? How do normal people get their voice heard? And that was when I looked down at my mobile phone and thought – that's it! One telephone number that can take all rants and raves that will be passed onto customer insight teams at shops, hotels, restaurants, train companies – no matter how big or small – people will either be ranting or raving about you!"
Nigel and his team have developed Rapide into an award winning tech company, listing half of the FTSE as their clients, including Vodafone, Barclays, Manchester United, Premier Inn and the National Grid.
Nigel adds: "We wanted to make life easier for both consumers and businesses. Many of us are afflicted with the fear of complaining – either because we don't want to make a scene or hurt a member of staff's feelings while some companies have lengthy complaints procedures where you have to fill out reams of information. Conversely, sometimes you want to tell the staff how happy you are with the service but you can't, often because the shopping experience is all too quick. Now all you have to do is make a phone call to 66099, have a rant or a rave, and that feedback will be passed on directly to the brand.
"For businesses, we're providing an invaluable insight into the customers' perception of their product. If they know what people think, they can build on it – and if all businesses do that then it can mean great things for the economy. One day I want the term 'Rant and Rave it' to become part of our vernacular, much like 'Google it' has become!"
To view the live feed of comments visit http://www.66099.co.uk or http://www.rantandrave.co.uk
for more information on how businesses can sign up.
Mike McMaster and Nigel Shanahan are available for interview. For press enquiries please contact kat.adams(at)staturepr(dot)com or kate.lam(at)taturepr(dot)com on 0207 100 0850
Notes to Editors

Rant & Rave is part of software company, Rapide, set up in 1999 by Nigel Shanahan.
66099 is the world's first mobile telephone number that connects consumers to brands. For more information visit http://www.66099.co.uk – home to a live feed of customer insight into brands across the UK.
66099 is FREE to call from a mobile. Sending a text message or MMS is charged at standard network rates but is often included in your phone bundle.