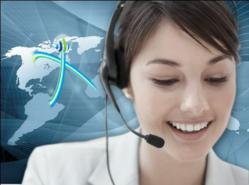 Topics include: Effective Use of Workforce Management Tools...Six Sigma Findings...Delivery Lessons Learned.
Southfield, Michigan (PRWEB) March 04, 2013
Stefanini, (http://www.stefanini.com) a global IT infrastructure outsourcing services firm, announced today that they will lead a "Trusted Workforce Management" Lunch & Learn at the HDI Motown Chapter meeting, which will include lunch, presentation, and Q&A session.
Date and Time:
March 8th @ 1:00-4:00 PM (Lunch, Presentation, and Q&A Session)
Location:
Automation Alley, 2675 Bellingham Dr, Troy, Michigan
Prizes:
Stefanini-sponsored $50 Gift Card - All attendees are eligible
HDI Motown Chapter-sponsored $50 Gift Cards (2) - HDI Members Only
Topic:
This dynamic presentation focuses on the benefits of consolidating schedule management to one trusted team in a multi-client call center environment to create greater efficiency, productivity and customer/employee satisfaction. Learn more about:

Effective Use of Workforce Management Tools
Six Sigma Findings
Delivery Lessons Learned
Speaker:
Eric Brandt, Global Workforce Manager, Stefanini
Mr. Brandt will draw on his 16 years in Call Center Management, including the last 4 years focused on Workforce Management. He is responsible for the forecasting and scheduling of over 30 accounts totaling over 2,000 agents.
Register:
HDI Motown Chapter Lunch & Learn with Stefanini
About HDI Motown Chapter
The HDI Motown Chapter is a community of service and support professionals that provides regular opportunities for its members to network, exchange best practices and enhance their skills through sponsored training and relevant educational programs. As a legal not-for-profit corporation, chartered in December 1999, HDI hosts monthly chapter meetings at varying locations around the Metro-Detroit area and also offer some members only training and networking opportunities. All of our monthly chapter meetings are free and open to anyone working in or interested in the IT Service and Support industry.
About Stefanini
Stefanini is a global IT outsourcing services company with 17,000 resources across 76 offices in 30 countries across the Americas, Europe, Africa, Australia, and Asia. Since 1987, Stefanini has been providing offshore, onshore and nearshore IT services, including application development services, IT infrastructure outsourcing (help desk support and desktop services), systems integration, consulting and strategic staffing to Fortune 1000 enterprises around the world. Clients benefit from Stefanini's financial stability, sustained year-over-year growth, and zero net debt. The corporate global headquarters is located in Sao Paulo, Brazil with European headquarters in Brussels and North American headquarters in metropolitan Detroit.