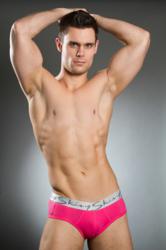 Men are decisive about fabrics and colours but worry about the perfect fit and transparency
(PRWEB UK) 1 March 2013
Years ago buying underpants was much simpler. They were black or white, shorts or briefs. Then fashion started to influence men's underwear collections, introducing a plethora of new shapes, luxurious fabrics and masses of colour.
Deadgoodundies.com is a website dedicated to the best men's underwear from around the world and their customers at least know just what they want.
Partner Jane Garner, who worked in women's fashion for more than 20 years before co-founding DGU, says men have a huge choice, but they are very focused shoppers.
"They know what they like. Some men will never wear anything but pure cotton, others prefer the second skin fit of a fine microfibre. They know what colours they will wear - and most definitely those they won't…
"There are a number of questions our staff are asked over and over again. One is about transparency - some customers love it, others will avoid see through fabrics at all costs. We are often asked about sports underwear for different activities, from playing soccer to cycling and thermals for skiing.
"Then there is the question of capacity. Like women, men come in all shapes and sizes and we all have to work with what nature gave us. Some men prefer a roomier fit up front from their undies, so we would recommend our latest new arrival, Skiny, or perhaps Jockey styles. Others like the sleek fit and the boost given by South American brands like Mundo Unico or Clever, or the closeness of designs by Bruno Banani or Olaf Benz."
Customers also ask how 'high' underwear might sit on their body. As Jane explains: "A man who wants his waistband to show over his jeans has to go for boxers, shorts or a deep brief. Low waist cuts and hipsters offer the same level of style without a public display."
She adds that men's underwear choices are catching up with women's in the complexity of terminology: "In ascending order of side seam depth, men's underwear runs from strings and thongs via micro or bikini briefs and tangas to midi, hipster, maxi, short and boxer cuts. It's worth finding the right style for an individual's body shape, then buying the size that gives the fit they prefer. That might be relaxed or super snug. The wrong pants are uncomfortable, unfashionable and can be rather unfortunate!"
Company Information
Deadgoodundies is an online only retailer stocking the best in designer men's underwear and swimwear from all over the world including: (in alphabetical order) Big Boys, Body Art, Bruno Banani, Bum-Chums, Clever Moda, Doreanse, Ergowear, Gigo, Gregg Homme, HOM, James Tudor, Jockey, Joe Snyder, MaleBasics, MANstore, Mey Bodywear, Mundo Unico, Nils Bohner, Obviously For Men, Olaf Benz, Pikante, PUMA, Skiny, Sloggi, Solar TanThru and Zoggs. DGU also stock selected loungewear, socks, T-shirts and more from their best selling brands.
DGU are incredibly media friendly and always have high res images on hand for fashion pages and samples for photo shoots as well as expert comment and market insight from partners Adam and Jane.
For more information contact DGU PR Jane on 01743 271615 (international +44 1743 271615) or email pr(at)deadgoodundies(dot)com.