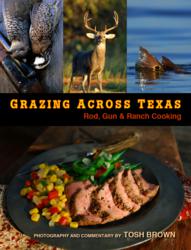 An appetite-whetting, hunting, fishing, and eating book full of Texas vigor and vitality - Gray's Sporting Journal
Austin, TX (PRWEB) March 06, 2013
From the Panhandle Plains to the Lower Laguna Madre, Grazing Across Texas is a celebration of the delightfully diverse hunting, fishing, and dining culture in the Lone Star State. The state of Texas spans over 260,000 square miles of remarkably varied geography. For the hunter, angler, and outdoor enthusiast, the Lone Star State offers terrain for every imaginable interest: marshes and bayous, pastures and prairies, lakes and streams, mountains and forests.
In "Grazing Across Texas", acclaimed photographer/writer Tosh Brown gives us a broad and diverse view of the hunting, fishing, and dining cultures in Texas. For two years, Brown traveled the state conducting interviews, collecting recipes, and photographing an eclectic selection of ranches, lodges, private sporting clubs, restaurants, and freelance hunting and fishing guides.
From the accomplished chef to the casual cook, Grazing Across Texas offers recipes for any level of culinary expertise. If you know your way around a kitchen, this book offers the opportunity to prepare favorite dishes from some of the finest game and fish chefs in the state: Jeffrey Blank, Gerard Thompson, Blas Gonzales, Tom Perini, Melissa Guerra, and others. If down-home camp cooking is more your style, there are plenty of recipes that you can prepare with basic tools and ingredients.
The iPad edition is formatted with a live-link recipe index, and most of the recipes can be viewed on a single pane with no scrolling. Just prop up your iPad in the kitchen and start cooking, or copy and past the recipes into an email or word processing document.
The marquee species of Texas are well represented, like whitetails, dove, quail, ducks, redfish, and bass. If you're looking to prepare something a bit more exotic, you'll also find recipes for more offbeat species, such as squirrel, alligator, rattlesnake, wild boar, and sandhill crane.
Hunting, fishing, and cooking are convergent traditions in Texas. Whether it's a beach house, a hunting lease, or a cabin on the lake, Texans have an ingrained enthusiasm for gathering and celebrating their extraordinary game and fish resources. So fire up the grill, grease your skillet, and call your friends and family–you're about to embark on an exciting and unprecedented sporting and dining tour of Texas.
"A gorgeous book loaded with stunning photography and seductive recipes…a gift guaranteed to impress" - Indulge Magazine
"Grazing Across Texas takes the reader from the coffee table to the kitchen with a blend of chuck wagon cookery, fine lodge fare, and Brown's beautiful photos" - San Antonio Express News
"Brown's camera has captured scenes that we know in reality and in our dreams…a colorful selection of pictures and stories, disguised as a cookbook" - Corpus Christi Caller Times
"Through powerful stories and images that dance around each other in perfect timing, Brown captures the spirit of the men and women whose lives are rooted in the Texas outdoor culture" - Westlake Picayune
"Camp cooking worthy of a trophy" - The Austin American Statesman