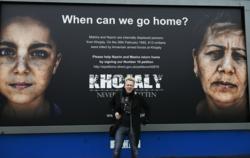 Nazrin, the little girl, was quite open and strong. She has never been to Khojaly, but heard about it from her parents.
London, UK (PRWEB UK) 1 March 2013
Leading German photographer Philipp Rathmer is probably being best-known for his fashion and celebrity photographs of such people as Luciano Pavarotti, Jay-Z and Sophia Loren. However, a different side to his work is currently on display on billboards at railway stations across England and Wales in an initiative organised by The European Azerbaijan Society (TEAS). These feature two internally displaced persons (IDPs) from the town of Khojaly in Armenian-occupied Nagorno-Karabakh. On the night of 26 February 1992, Armenian forces, supported by the No. 366 Soviet Infantry Regiment, killed 613 civilians as they tried to escape the town.
During July 2012, Philipp spent one week photographing IDPs and refugees in camps in the Azerbaijani towns of Takhtakorpu and Gunzali, near the Armenian border, and Darnagul and Gizilgum, located north of Baku. Throughout, he represented the suffering of these people by focusing on their faces in extreme close-up, against a black background, lit in indirect sunlight, emphasising their private tragedies through their facial expressions.
Nazrin Khanlarova, aged 10, and Mahira Ibrahimova, aged 48, were both photographed in the Gizilgum IDP camp. Philipp remembered: "Mahira looked very sad – she had lost many family members due to the war, including her father and only brother, who were taken as prisoners of war. Their health deteriorated, and they died soon afterwards. By comparison, Nazrin, the little girl, was quite open and strong. She has never been to Khojaly, but heard about it from her parents. I photographed 160 IDPs and refugees altogether, capturing the different age groups represented in the camps. All the IDPs told their own stories. There were many massacres during the Armenian-Azerbaijani conflict over Nagorno-Karabakh and the seven surrounding regions, and each of them told me about their hometowns and their experiences as their land was occupied."
NOTES TO EDITORS
1) The continued Armenian military occupation of Nagorno-Karabakh is in direct contravention of UN Security Council resolutions 822, 853, 874 and 884. Talks have been ongoing under the auspices of the OSCE Minsk Group for more than 20 years, but to date no progress has been made.
2) Azerbaijan has one of the highest per capita level of refugees and IDPs in the world, according to UN figures: http://www.unhcr.org/4fd6f87f9.pdf