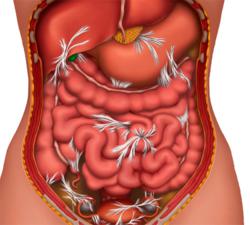 Her only nutrition was through intra-venous feeding tubes in her arms when she began the treatment. But after 29 hours of the manual treatment, she was eating normal food – even hamburger
Gainesville, FL (PRWEB) March 01, 2013
Bowel (intestinal) obstructions are common life-threatening conditions that often require immediate hospitalization and surgery. Because post-surgical adhesions are a primary cause of bowel obstruction, patients often undergo repeat cycles of obstructions and surgical repair, becoming more adhered with each surgery. Two new studies are bringing hope that a physical therapy can help clear adhesions without surgery, helping these patients avoid obstructions, hospitalization and surgery.
The studies, published in the Journal of Clinical Medicine and the Journal of Palliative Care, examine the effects of the therapy on patients with severe conditions or histories, according to Dr. Amanda Rice, one of the study authors. "One patient's intestines were totally blocked before therapy," she said. "Her only nutrition was through intra-venous feeding tubes in her arms when she began the treatment. But after 29 hours of the manual treatment, she was eating normal food – even hamburger," Dr. Rice noted.
In another study, a patient who had undergone nine surgeries including bowel resection at birth had radiologic tests run before and after the therapy. Pre-therapy tests showed a nearly totally occluded bowel; post-therapy tests showed a normal bowel, according to independent radiologist testing.
"These results offer hope to people who are plagued by recurring bowel obstructions and surgeries," said Belinda Wurn, the director at Clear Passage Physical Therapy clinics. "The ability to avoid yet another hospitalization or gut surgery in these patients represents a promising advance in bowel obstruction management and treatment."
Bowel obstructions occur when adhesions, or internal scars, form in the small intestines (small bowel) and sometimes in the large intestines (colon). Adhesions form as the first step in healing from a surgery, infection, inflammation or trauma. Surgical bowel repair can save lives, but risks include bowel rupture, internal infection and formation of new adhesions. These create the potential for additional surgery to clear adhesions, or repair the bowel again.
About Clear Passage Physical Therapy®
Clear Passage Physical Therapy® is a network of physical therapy clinics specializing in the hands-on treatment of bowel obstruction, female infertility and chronic pain, with an additional focus on women's health conditions such as endometriosis, pelvic and intercourse pain. Major medical journals and the public media have recognized Clear Passage for its high treatment success rates and ability to bypass the need for surgery or drugs. The group treats men and women from all over the world at its U.S. clinics; approximately 20 percent of Clear Passage patients are healthcare professionals.