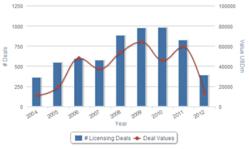 Norwood, MA (PRWEB) March 04, 2013
Infinata's BioPharm Insight released its Licensing League Tables Report for 4Q12 and YE12 to subscribers in mid-February. This report provides insight needed to evaluate market opportunities, market values and trends as well as competitive strategies.
The total volume and disclosed value of licensing agreements involving pharmaceutical products picked up in 4Q12. The quarter has seen 110 agreements with an aggregate disclosed value of USD 6,813m. That is an increase of 36% in volume and 42% in value from 3Q12, in which 81 agreements worth USD 4,787m were announced. The Antibody Program agreement between Menarini Group and Oxford BioTherapeutics was the largest deal in 4Q12, potentially valued at USD 1,035m.
Topping the charts in 4Q, legal advisor Wilson, Sonsini Goodrich & Rositi led the volume table having advised on eight transactions valued at USD 551m. While WilmerHale led the global value table for 4Q, having advised on six drug licensing agreements valued at USD 685m.
WilmerHale also led the global and North American volume tables for YE12 with 27 transactions valued at USD 1,283m, while tying with Cooley for the European volume tables, both having advised on eight transactions. Cooley also led the global and North American value tables for YE12 with 26 transactions valued at USD 4,280m and 25 transactions valued at USD 4,272m, respectively. Covington & Burling took the top spot for the European value table for YE12 having advised on seven agreements valued at USD 3,765m.
Access all of BioPharm Insight's reports by starting a free trial today.
About BioPharm Insight
BioPharm Insight is the definitive guide to the global biopharma community. BioPharm Insight provides subscribers with an information edge by combining the most comprehensive real-time database of companies, drugs, contacts, M&A and licensing deals, forecasts and clinical trial data with proprietary forward-looking intelligence uncovered by an independent team of investigative journalists months or even years before it breaks in mainstream media. To learn more, visit http://www.biopharminsight.com. Follow BioPharm Insight on LinkedIn and Twitter.
About Infinata, Inc.
Infinata provides personalized technology solutions to turn information into insight. Services include a comprehensive BioPharm Solutions Suite, unique Wealth Prospecting tools and innovative Custom Data Services. Infinata is a part of Mergermarket, a Financial Times Group company and a division of Pearson plc. To learn more, visit http://www.infinata.com.