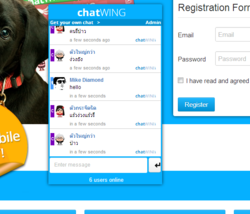 Portland, OR (PRWEB) March 15, 2013
To help web users understand the importance of global connectivity in the modern period, Chatwing.com introduces its new chat widget in the form of visual entries. These visual entries or posts are scattered in the blogosphere and most social media sectors. Chatwing's developers are expecting a growth in the chatroom's influx rate, as well as visibility factors. In turn, the company can use different customer feedbacks as templates for new developments.
The visual entries are rich in images that are related to the Chatwing chatbox. In these entries, the important factors of the chatroom tool are explained. One of these factors includes global connectivity in the cyberspace. "The Chatwing chatroom is built to help web users gain the information they need without wasting time. Everyday, the chatroom has the potential to bring in thousands of visitors to a website. This means that websites can gain high rates of traffic," Says Mike Diamond, a Chatwing core developer.
Chatwing's chat box has started generating buzz in Facebook and Twitter. Facebook marketers benefited from Chatwing's communication factor, while Twitter users managed to expand their networks easily. Based on feedbacks, Chatwing's developers have added Google and Yahoo login options.
Currently, the Chatwing Team is reviewing different strategies on how to reach more web users effectively. The company's researchers and developers are also working round the clock to observe many niche changes.
About Chatwing.com
Chatwing.com specializes in the new field of website chat. Over years, the Chatwing team has introduced live chat widget for hundreds and thousands of blogs. The Chatwing application bridges people from many parts of the world, creating global synergy through the Internet. The shout box can be installed in just seconds, and it can be used for varying purposes such as leisure and Internet marketing. It also allows a user to customize the size, color, and name of the widget. Chatwing is 100% free for everyone.