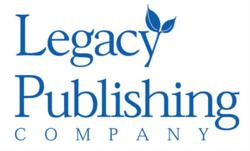 Westbrook, Maine (PRWEB) March 05, 2013
Legacy Publishing Company America's premier producer of programs for parents and families, today announced changes to their Executive Leadership Team.
Jim DeWolfe, formerly the Executive Vice President, has been promoted to President. Mr. DeWolfe will be responsible for the day-to-day management of Legacy's core business and leadership of the Senior Management Team. A successful entrepreneur and industry veteran, Mr. DeWolfe joined Legacy in 2010 as Vice President of Sales and has been instrumental in growing Legacy's core business resulting in record revenues in 2011 and 2012.
"I'm proud to have the opportunity to work with so many hardworking people at Legacy—all of whom have an enduring passion for helping others. I'm excited to have been entrusted with such an important role." Added DeWolfe, "I look forward to building upon the great work that we've already done, and co-creating with the Senior Leadership team and others a plan that will allow Legacy to expand our reach and products to help change the lives of more people throughout North America."
Cheryl Kepner has been promoted to Senior Vice President of Customer Engagement, taking over leadership of Legacy's customer contact departments, including the Parental Support Line, Sales, and Customer Service. A key member of Legacy's Senior Management Team since its inception in 2004, Ms. Kepner, along with CEO Steve Anderson, lead the development of the Total Transformation Program which has sold more than 370,000 units and has been heralded as a 'family-saving program' by many.
"It's a privilege to be able to work more closely with the teams who engage and build relationships with our customers personally," says Kepner. "I'm committed to helping them create a superior customer experience and to making Legacy a great place to work and grow."
Said CEO and Founder Steve Anderson, "We're fortunate to be able to fill these two very important positions with highly qualified internal talent. Jim and Cheryl are dynamic leaders who will now have an even greater impact on Legacy's customers and associates. I expect great things!"
***
Legacy Publishing Company, located in Westbrook, Maine, is America's premier producer of personal development programs for families and couples. Legacy's flagship product, The Total Transformation Program was created by renowned Maine child behavioral therapists James and Janet Lehman, MSW. To schedule an interview, please contact Elisabeth Wilkins at 856-5600 x 3015 or ewilkins(at)legacypublishing(dot)com. For more information about joining Legacy Publishing Company's team, visit http://www.goodnewsgoodjobs.com.
.