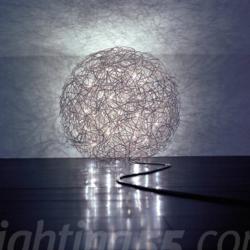 Designed by Enzo Catellani in Italy - Fil De Fer floor lamp
Tarpon Springs, Florida (PRWEB) March 07, 2013
For several years, Interior Deluxe has served as one of the best company in the modern lighting industry. It has always offered a variety of lighting fixtures that range from modern lighting chandeliers to various other contemporary lighting products such as wall sconces or pendant lights. Apart from providing exceptional and innovative designs, Interior Deluxe has also supplied the world with quality lighting products. Recently, it has added new collection by the renowned Italian manufacturer- Catellani & Smith. This company offers a remarkable collection of table lamps, ceiling lights, floor lamps, recessed lights and wall mounted lights. All these products are crafted on notable designs with advanced technology. The Fil De Fer collection by this brand has till date been the most demanded lighting range in the industry. Some of its leading lighting fixtures include the LED Pendant Light, Gold Pendant and LED Outdoor Pendant Lamp.
Catellani & Smith is an Italian brand which was born out of the passion and idea of two brilliant designers with an objective to create striking lighting fittings for improved quality products across the globe. Since its establishment, the company has worked to shape light fittings in a way that enhances their functionality and beauty. All its collections are revitalized year after year based on the demand of the customers. The company's product designs are inspired by the ancient traditions of different civilizations and cultures, decorated by natural tint and constructed by the latest technology. All these factors blend to generate exclusive collections with a unique rustic appeal.
The Fil De Fer LED Light is being crafted and manufactured by Catellani & Smith. The fitting structure has been carved out of anodized wire that is formed in a rounded shape. This lighting fixture is available in various versions that operate on different LED bulbs. The acceptable power of these bulbs are 20, 28, and 48 G4 1.5W.
Another spectacular fitting designed by Catellani and Smith is the Fil de Fer Gold Pendant. This lighting product is handcrafted in Italy and is available in an elegant golden look. The outer structure has been plated with aluminum while the inside has been provided with several small 8/10/20/28 10W G4 halogen bulbs. This unique combination blends together to generate a lighting source with a radiant illumination. This light pendant is available in four sizes with diameters ranging from 30 cm to 90 cm.
The Fil de Fer LED Outdoor Pendant Lamp is another outstanding product by Catellani and Smith and is handmade in Italy. It is built of hand spun aluminum wire that has been shaped in a ball. The interior body has been integrated with many tiny LED bulbs which not only provide elegance and warmth to any location but also are energy efficient in nature.
Emma Brecon from San Francisco shared her experience with these products, "For years, I have been buying lighting products from Catellani and Smith. They are beautiful, stylish, elegant and even energy efficient. They can make any location look classy and radiant. I totally recommend buying these lighting fittings."