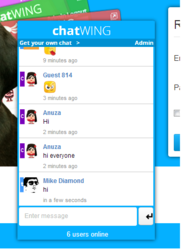 Miami, FL (PRWEB) March 16, 2013
Consumer trends are entering rapid changes every now and then. Based on the general psyche of consumers and the information brought by the cyberspace, trends take on new forms. To help online business owners ride through these changes in the World Wide Web, Chatwing.com and its developers announced some important consumer trends in their chat platforms. Apart from that, the company created a chat widget specifically designed to discuss these trends.
Social media presence is one of the consumer trends emphasized in Chatwing chatbox. Everyday, the company's developers are sharing tips about this trend because they believe that people should utilize social media as much as possible. In line with this, Chatwing's visitors can log in with Facebook and Twitter accounts. Now, they can explore the social media and expand their networks.
Blogging is another important trend discussed by Chatwing's developers. For them, blogging is more than just a hobby—it is a way to make profits and spread awareness for thousands of people. To help bloggers gain the sheer advantages of communication, Chatwing offers an online visibility boost through topical discussions. Bloggers can rely on the Chatwing chat box to create subscriber bases.
Since it is making a buzz, Chatwing also explores the beauty of content. The developers indicated that website owners and their teams should know how to create wonderful content to entice more people. Every now and then, the Chatwing team will share important content marketing tips, as well as information about other consumer trends that may appear. These tips and updates will be posted in the company's Facebook page.
About Chatwing.com
Chatwing.com specializes in the new field of website chat. Over years, the Chatwing team has introduced live chat widget for hundreds and thousands of blogs. The Chatwing application bridges people from many parts of the world, creating global synergy through the Internet. The shout box can be installed in just seconds, and it can be used for varying purposes such as leisure and Internet marketing. It also allows a user to customize the size, color, and name of the widget. Chatwing is 100% free for everyone.