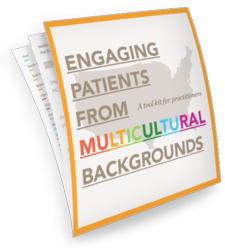 What we've learned in our research is that there's a real need for resources to help support healthcare extenders as they strive to provide culturally competent care — Susan Collins, MS, CHES, RD, Senior Vice President of Health Education Research
Clark, N.J. (PRWEB) March 04, 2013
As a companion to a free healthcare webinar planned for March 6, HealthEd Academy has released a tool kit for health care practitioners who want to be more effective at reaching diverse patient populations.
The 33-page PDF, "Engaging Patients From Multicultural Backgrounds: A Tool Kit for Practitioners," is based on a larger market research report released by HealthEd Academy in February. Tool kit highlights include:

four case studies from practitioners who have created programs to reach patients from a variety of cultural backgrounds
two frameworks for delivering culturally competent care—for both individuals and organizations
a guide to the top 15 resources for learning more
The tool kit is offered as a companion to a free healthcare webinar being presented by HealthEd Academy in conjunction with SurroundHealth, a free online learning community for healthcare extenders. Both HealthEd Academy and SurroundHealth are part of HealthEd, a healthcare solutions company rooted in education.
Two of the webinar panelists are also featured in the health tool kit. They are:
Katherine Malbon, MD, assistant professor in Pediatrics in the Division of Adolescent Medicine at Mount Sinai Adolescent Health Center in New York City; founder of Text in the City
Georgia Robins Sadler, BSN, MBA, PhD, associate director for community outreach at the Moores UCSD Cancer Center and professor in the Department of Surgery at the University of California San Diego (UCSD) School of Medicine
Both the healthcare resource tool kit and webinar are targeted at healthcare extenders—non-MD, patient-focused health professionals, such as nurse practitioners, health educators, nutritionists, certified diabetes educators, and pharmacists.
"What we've learned in our research is that there's a real need for resources to help support healthcare extenders as they strive to provide culturally competent care," says Susan Collins, MS, CHES, RD, who's senior vice president of Health Education Research & Development at HealthEd. "We wanted to create a guide that would help them really make a difference in caring for increasingly diverse patient populations."
To learn more, visit http://www.HealthEdAcademy.com/toolkit.aspx.
About HealthEd
HealthEd is committed to creating a healthier world. We foster better health and business results through innovative solutions that are rooted in education. So learning becomes doing.
Our clients include pharmaceutical brands, medical device companies, health plans, and government organizations. HealthEd also supports healthcare extenders with SurroundHealth, a free online learning community. To learn about working with us, contact Marissa Addalia at 908-79-2018, follow us at http://www.twitter.com/healtheddigital, or visit HealthEd.com.
Source:
HealthEd