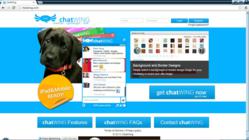 Miami, FL (PRWEB) March 17, 2013
Chatwing—a company that develops applications for blogs and websites—recently created a chat box meant for business owners. The business-centric chat box contains color schemes and various setups to help any business achieve high rates of online visibility. According to Chatwing's developers, the embeddable tool has efficient communication features that involve social media and direct discussions. The chat tool is also available in five different languages.
Chatwing's premier chatbox is designed to generate streams of traffic by initiating discussions between visitors. Oftentimes, the website owner can also discuss his ides in the chatroom. For the chatroom visitors, many options can be explored. Facebook, Twitter, Google, and Yahoo accounts can be used by visitors to log in. Alternatively, they can choose the Guest option; Chatwing has numerous avatars that can be used. Once logged in, the visitors can now share their thoughts and even make new friends.
Business owners can now reach more clients with the Chatwing shoutbox. These people, cold market leads at first, will then become potential clients that can make the business grow considerably. Aside from that, the Chatwing tool can support any branding process along the way because of its background image upload option. Business owners can now upload their brand images easily.
Through efficient website chat, Chatwing's users will have better connections to the world. The chat box will continue to have more upgrades, ensuring its overall viability in the long run. Chatwing developers will also pursue more niches as part of its grand expansion strategy.
About Chatwing.com
Chatwing.com specializes in the new field of website chat. Over years, the Chatwing team has introduced live chat widget for hundreds and thousands of blogs. The Chatwing application bridges people from many parts of the world, creating global synergy through the Internet. The shout box can be installed in just seconds, and it can be used for varying purposes such as leisure and Internet marketing. It also allows a user to customize the size, color, and name of the widget. Chatwing is 100% free for everyone.