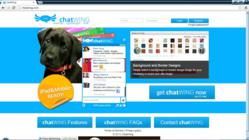 Cambridge, MA (PRWEB) March 18, 2013
After conducting specialized research in many online forums and communities, Chatwing Development Team launched a specialized chat widget that can be used for eBook marketing purposes. The chatroom tool can be used in many ways possible, and it can also be installed in blogs and websites. The platform also focuses on communication between visitors, website owners, eBook writers, and virtually anyone who wants to share information.
The Chatwing chatbox is efficient for any eBook marketing process because of its useful features. For starters, the chatroom has social media login setup—this simply means that visitors can log in with their social media accounts. Now, the eBook writer can reach large groups of people in just few clicks of the mouse. As a bonus, visitors who logged in with their social media accounts can become clients of the eBook writer.
Chatwing chat box is also dynamic when it comes to appearance. Currently, there are dozens of color schemes that can be accessed in the user dashboard. These colors can be mixed and matched, along with some font styles and preset background images. If the website owner changes websites, he can tweak the appearance of the shoutbox freely. There is also an available MP3 upload option. Right now, only MP3 links are allowed but the developers are working on a direct file upload system for added convenience.
Many website owners and bloggers have also commented about the versatility of the Chatwing tool. The Chatwing Team is always open for suggestions and feedbacks, and the company's developers are working hard to make new upgrades. These upgrades will help more users gain communication advantages.
About Chatwing.com
Chatwing.com specializes in the new field of website chat. Over years, the Chatwing team has introduced live chat widget for hundreds and thousands of blogs. The Chatwing application bridges people from many parts of the world, creating global synergy through the Internet. The shout box can be installed in just seconds, and it can be used for varying purposes such as leisure and Internet marketing. It also allows a user to customize the size, color, and name of the widget. Chatwing is 100% free for everyone.