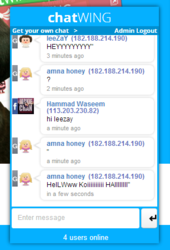 Chicago, IL (PRWEB) March 19, 2013
Chatwing Dev Team steps into the eBook niche by launching a chat widget that can help people market their works. To support that expansion, Chatwing's developers also shared some important eBook topics that can be discussed. These topics can be found in Chatwing chat boxes, as well as in the company's blog series.
The first topic explored by Chatwing admins is personal finance. This is based on the popularity of the subject. Visitors started sharing their tips and experiences about personal finance, along with clear ways on how to establish businesses. Health is also a famous topic, spanning numerous discussion points occasionally. According to Chatwing's developers, the health eBook niche has over thousands of readers worldwide.
The social media capability of the Chatwing chatbox allows it to reach many groups of people at once. This is the reason why eBook explorers can use the Chatwing to find niches, co-writers, and even angel investors. The Chatwing tool can reach Facebook, Twitter, Google, and Yahoo communities.
Website owners can also use the chat box to increase the popularity of their sites. This is beneficial for eBook users who also happen to have websites or blogs for marketing. Installation of the Chatwing app can be accomplished in seconds, depending on the user's customization preferences. In the coming months, Chatwing will create more advancement to ensure that more niches and user groups can be reached.
About Chatwing.com
Chatwing.com specializes in the new field of website chat. Over years, the Chatwing team has introduced live chat widget for hundreds and thousands of blogs. The Chatwing application bridges people from many parts of the world, creating global synergy through the Internet. The shout box can be installed in just seconds, and it can be used for varying purposes such as leisure and Internet marketing. It also allows a user to customize the size, color, and name of the widget. Chatwing is 100% free for everyone.