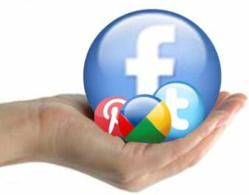 Maura's presence on Social Media Sites allows her to showcase her ideas and interact with a larger audience.
Riverside, IL (PRWEB) March 04, 2013
Maura Braun, principal of MyDesignerOnline.com has launched a comprehensive social media campaign to showcase her new concept for the delivery of interior design services to anyone with an internet connection. Using social media platforms allows people to interact on a very basic level with the designer, and allows Ms. Braun the opportunity to develop relationships with her target markets, while providing the type of granular information not normally available to people without large design budgets.
Using the photo gallery features of Facebook and Twitter, along with the ability to post useful tips and tricks, articles and other information allows a multi-faceted approach to marketing this type of online design business. However, it is platforms like Pinterest and Houzz that are revolutionizing the way designers can reach their target audience.
Pinterest is one of the fastest growing social networks and third largest in the United States. It is a visual, life-style oriented platform. The themed boards offer designers like Ms. Braun the opportunity to show a variety of styles, colors and product ideas in the form of renderings, photos and videos that can be shared or "re-pinned" by others. Ms. Braun will use Pinterest to reflect more than a portfolio of her rooms, but a compilation of ideas that reflect her brand.
Houzz is a newer entry that connects millions of homeowners, designers and home improvement professionals. It boasts the largest residential design database in the world, and is a great way for people to get design information, product advice and inspiration. MyDesignerOnline.com will use this as a forum to help clients crystalize their unique style ideas and review some of the newest materials and products available.
As a top tier interior designer, Maura Braun has transformed some of the most prestigious homes in the Chicago area. Her ability to weave her design ideas into the lives and lifestyles of her clients have made her a sought after designer. However, it was her dream to make interior design accessible to even more people, especially those who would otherwise not have the resources to hire and work with a full-time designer, that gave birth to MyDesignerOnline. Her Website offers people literally all over the world access to the services of a professional designer. Combining access to online shopping sources, social media platforms and her website makes it possible for everyday people to realize the spaces of their dreams – all with just a few clicks of a mouse.