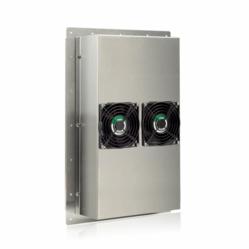 "By making EIC cooling units compatible with basically any power source, we make highly efficient cooling and significant savings on energy and maintenance possible in practically any installation scenario."
Warminster, PA (PRWEB) March 05, 2013
EIC Solutions, Inc., a leading manufacturer of thermoelectric air conditioners, electronic enclosures and transit cases, has advanced the circuitry engineering in their cooling units to provide maximum cooling output regardless of available power supplies or the integrity of the voltage flow. EIC air conditioners run off either an AC or DC power source with consistently high power utilization efficiency. The EIC chip design also optimizes virtually any type of input power assuring high performance cooling even if voltage fluctuates.
In situations where only DC power is available, EIC air conditioners can be designed to operate on a wide range of DC voltages. This feature is very useful in mobile applications and in some military operations where only DC power is available. EIC units will even run off a 24V or 28V DC truck battery if that is the only power source available.
For AC power installations -- either 90-132V or 180-264V -- EIC offers an auto-range feature. The auto-range feature automatically tracks and optimizes available voltage to provide unimpeded cooling at rated BTUs even when the units are installed in areas where voltage flow may vary such as older buildings and production facilities. When connected to an AC power source, EIC units immediately convert the input to DC enabling the internal circuitry to optimize power consumption and utilization for maximum cooling efficiency. Some EIC units designed for maximizing versatility will operate on AC or DC voltage and will switch between 120/240 AC and 24/28 DC automatically based on available power connections.
"By making EIC cooling units compatible with basically any power source," said Dave Bates, EIC Operations Manager, "we make highly efficient cooling and significant savings on energy and maintenance possible in practically any installation scenario." Bates explained that thermoelectric cooling units have no compressor, refrigerant or filters, and there are no moving mechanical parts other than fans. "This is unique to thermoelectric cooling units," said Bates who also pointed out that the absence of compressors and refrigerants results in almost zero maintenance.
EIC offers the ThermoTEC Series thermoelectric air conditioners, a complete line of compact, lightweight, solid-state thermoelectric coolers for cabinets and enclosures. The units feature a simple, efficient Peltier design for reliable performance without the use of CFCs. Peltier assemblies use thermoelectric modules sandwiched between high performance aluminum heat sinks and one or more high CFM axial fans. These assemblies are coupled with a patented EIC electronic design to pump the heat from the inside of an enclosure to the outside, without exposing delicate electronics to outside air or contaminates. A wide range of sizes is offered from 200 to 2500 BTU.
Made in the USA, EIC air conditioned electronic enclosures and transit cases protect controls, computers, cameras, telecom equipment and other electronic/electrical gear from particulate contaminants, oils, water and most other environmental hazards. The weather-tight units are built to NEMA standards and can be equipped with a cooling and heating system for total control over cabinet interior temperatures. Options include heaters, digital temperature controllers, rain shrouds, drip pans and tamper resistant packages. Enclosures may be fitted with mounting feet, "drop-in" rack mount brackets, insulation or a polycarbonate view window.
For more information about EIC thermoelectric air conditioners with multi-voltge capability please contact EIC Solutions, Inc. Phone: 215-443-5190. Fax: 215-443-9564. email: info(at)eicsolutions(dot)com.
About EIC Solutions, Inc.
EIC Solutions, Inc., is a leading global provider of cooling and protection solutions for electronics and equipment. Since 1988, EIC has specialized in the design and manufacture of thermoelectric cooling systems for a wide range of applications in many markets including industrial, commercial, military and defense, security and surveillance, oil and gas and infrastructure markets. EIC thermoelectric air conditioners, air conditioned enclosures and air conditioned transit cases meet application requirements for housing and cooling electronics and equipment -- both stationary and mobile -- in harsh indoor as well as outdoor environments. In addition to pre-packaged solutions, EIC can create custom engineered products designed to meet unique application needs. Flexible production capabilities enable EIC to provide standard and custom solutions for orders ranging from a single piece up to large-scale production rollouts. EIC's customers include Fortune 100 companies, all branches of the military and government agencies.
ThermoTEC is a registered trademark of EIC Solutions, Inc., Warminster PA.