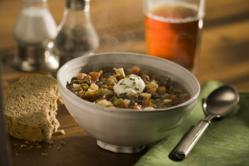 Home cooks are always trying to answer the question, 'What's for dinner?', and our new four pack is designed to give them an easy answer to that question. Our soup mixes have short hands-on preparation times and cook up into a healthy family dinner.
Waukegan, IL (PRWEB) March 01, 2013
Frontier Soups™, a producer of all natural gourmet soup mixes, is helping home cooks get easy family meals on the table quickly with its new What's For Dinner? Soup Four Pack.
With the What's For Dinner? Four Pack, home cooks can have an easy family dinner, with cooked-all-day taste, on the table in about 45 minutes that is perfect for warming up hungry diners after a long day of work or school, said Trisha Anderson Frontier Soups' founder. The new Four Pack of two Homemade-In-Minutes™ soup mixes and two gourmet cornbread mixes is $15.95 during March, which is $5 off the regular price, Anderson said. The Four Pack includes:

Hungarian Goulash, which is a sturdy, thick, gluten free soup filled with ground beef, potatoes, green lentils and leeks and seasoned with paprika, caraway seed, marjoram and thyme,
Mushroom and Wild Rice Soup, another gluten free soup, is made like a classic chicken soup, but filled with wild rice and shitake mushrooms and can be served as a clear broth or creamy, and
two Appalachian Trail Cornbread Mixes that can be stirred up and baked while the soup is simmering to round out the meal.
"Home cooks are always trying to answer the question, 'What's for dinner?', and our new four pack is designed to give them an easy answer to that question," Anderson said. "Our Homemade-In-Minutes soup mixes take up very little real estate in the pantry, have short hands-on preparation times, and cook up into a satisfying and healthy family dinner. Bread or our delicious cornbread rounds out this healthy comfort food meal."
In addition to the new Four Pack, Frontier Soups also has its Nebraska Barn Raising Split Pea Soup mix on special in March for those who are looking for a tasty green food for St. Patrick's Day. The classic green pea soup is thick and has a traditional smoky taste from a ham hock or a smoked turkey leg for those who want the same great taste with lower fat and fewer calories, she said. The split pea soup mix and the Hungarian goulash both are specially priced at $4.95 during March, a savings of more than 17 percent.
Twenty-eight of Frontier Soups 33 varieties of soup mixes are gluten free soups like chicken noodle soup, white bean chili and minestrone soup as well as 11 vegetarian soups, or soups with vegetarian variations, including the best-selling corn chowder. All of the soup mixes in both the Homemade-In-Minutes™ and the Hearty Meal™ lines are based on traditional regional American recipes and crafted to deliver familiar flavors faithfully for a shortcut to homemade taste, Anderson said. More information about the company's products is available online at FrontierSoups.com or by calling 1-800-300-7687.
About Frontier Soups:
Frontier Soups™ has offered aspiring and accomplished home cooks a shortcut to healthy, homemade meals with 33 soups, stews, chili and chowders inspired by the finest traditions in American regional cuisine since 1986. The gourmet soup mixes, including 28 gluten free soup varieties, are available in such outlets as A Southern Season, Whole Foods, Central Market, The Fresh Market, Safeway, Great Harvest Bread Company and Omaha Steak stores, through national and Canadian distribution and online at http://www.FrontierSoups.com. The company is located at 895 Northpoint Blvd., Waukegan, IL 60085. More information is available online or by calling 1-800-300-7687.