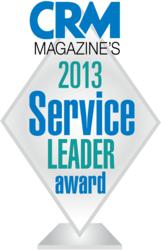 Parature is pleased to be selected once again by CRM Magazine as a Service Leader Award winner.
Herndon, VA (PRWEB) March 04, 2013
Parature, a global leader in cloud-based customer service software, announced today that the company has been named a 2013 CRM Magazine Service Leader Award winner. Parature joins Microsoft Dynamics CRM, Oracle and Salesforce.com as 2013 Service Leaders in CRM Magazine's Customer Case Management category.
The 2013 Service Leaders were chosen by a group of approximately 20 top analysts and industry experts, with ratings based on a mix of weighted criteria including depth of functionality and services, customer satisfaction, company direction, deployment costs and overall revenue. Favorable consideration was also given to those vendors that offer not only integrated social media, but mobile, cloud, analytics and multi-channel capabilities.
Says CRM Magazine about the evolution of this key category, "Customer case management has continued to evolve as more companies want – and need – comprehensive ways to manage their customer support life cycles… vendors that seamlessly integrate social support capabilities, along with mobile, will offer the most productivity gains."
In its review of the 2013 Service Leader Award winners, Parature was recognized for its complete multi-channel platform, its mobile customer support capabilities, and the introduction of its Parature Social Monitor, the first social monitoring and response product designed specifically for customer service teams. With Parature for Facebook and Parature Social Monitor as part of the Parature Social Customer Service Suite, companies are provided a complete end-to-end social media customer service engagement solution.
John Ragsdale, Vice President of Technology Research at the Technology Services Industry Association, called Parature's centralized multi-channel customer service solution an, "increasingly sophisticated suite and an excellent fit for companies with strong social support requirements."
"Parature is pleased to be selected once again by CRM Magazine as a Service Leader Award winner for customer case management," says Parature CMO and Co-founder, Duke Chung. "It is an honor to be recognized by such an esteemed panel of judges, analysts and customer service experts, and it is Parature's continued goal to deliver at the highest levels when it comes to customer satisfaction, depth of functionality and company direction. This repeat industry recognition is extremely meaningful to us."
Parature and the other 2013 CRM Magazine Service Award winners are featured in the March 2013 issue of CRM Magazine.
About Parature
Parature is the industry's leading provider of cloud-based customer engagement solutions and is used to support approximately 55 million end users worldwide. Parature empowers customer service organizations to monitor, manage, resolve and respond to a high volume of service issues across multiple communication channels, including the growing number of service-related conversations that are happening every day within social media channels. With more than a decade of experience, Parature delivers support and social media engagement and management solutions to mid-size and enterprise organizations across a wide variety of industries.
Parature is among the Deloitte Technology Fast 500 and is the recipient of numerous product, technology, and leadership awards including the 2013 CRM Watchlist and the Inc. 500 | 5000 Fastest Growing Companies. Parature is used by some of the world's most innovative organizations, federal agencies and companies, including IBM, Ask.com, the EPA, Tagged, the National Network of Digital Schools and Threadless. Parature is headquartered in Herndon, Virginia. For more information, visit http://www.parature.com, follow @parature on Twitter, or like on Facebook at facebook.com/parature.