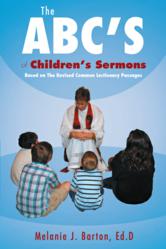 "The book is for anyone who ever tried to explain God to children. It will help you prepare by giving you samples and ideas to make the presentation your own."
Tallahassee, Florida (PRWEB) March 04, 2013
The ABC's of Children's Sermons by Rev. Melanie Barton is a combination of resources for whomever presents the children's sermons.
It provides a written example of a story for each lectionary passage and includes accompanying CDs that tell the story.
The book offers stories that encourage the presenter to share his or her own life experiences, so that the children will begin to understand that being a follower of God is not a guarantee that life will be perfect.
Instead of dwelling on those trials and tribulations, this book provides a mechanism for the presenter to convey ideas in simple, straightforward language for the children to incorporate into their own lives so that they can help themselves in difficult or troubling situations.
Motivated after her divorce and battle with cancer, Barton organized her own sermons and children's sermons gathered over 30 years.
"The book is for anyone who ever tried to explain God to children," Barton says. "It will help you prepare by giving you samples and ideas to make the presentation your own."
The ABC'S of Children's Sermons
By Melanie Barton
Softcover $17.95, ISBN: 978-1-44976-857-7
E-Book $3.99, ISBN: 978-1-44976-858-4
Available at barnesandnoble.com, amazon.com and westbowpress.com.
About author
Reverand Dr. Melanie J. Barton is an author, radio talk show host, ordained minster, church consultant and holistic private practice psychotherapist. She holds a Master's Degree in Social Work and a Doctorate in Pastoral Counseling and Community Development. Additionally, she has served different pastorates and has overcome multiple personal challenges, including cancer and other health issues. With her radio show, she educates listeners about holistic, spiritiual and practical methods to help their situations. Barton currently lives in Tallahasee, Florida.
###