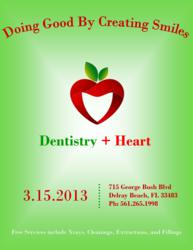 "I believe in doing the right thing. Helping our local community, which has always been loyal to us, it just feels right. It's going to be a great time"
Delray Beach, FL (PRWEB) March 12, 2013
Rohrer Cosmetic Restorative Dentistry, a holistic dental practice located in Delray Beach, FL., is giving back to the community by hosting a complimentary dental care day through "Dentistry + Heart" to 25 adult Palm Beach County residents on March 15, 2012 at 7:30am. Doctors and staff will be performing dental cleanings, exams and xrays, fillings and extractions.
"I believe in doing the right thing. Helping our local community, which has always been loyal to us, it just feels right. It's going to be a great time," said Dr. Tom Rohrer, owner and a participating dentist at the event.
Following the success Rohrer Cosmetic Restorative Dentistry had with the "Smile for Christmas" event in 2009 and 2011, which helped local children get free dental cleanings and exams, Drs. Rohrer decided to expand it to the adult population with "Dentistry + Heart". The goal is to make this a regular yearly event and encourage other local dentists to participate also.
"Since I started working here in 2009, I am always excited to help organize these types of events. We started with kids first, and now we can offer it to adults as well. I'm very thankful that we are able to do this and it's all due to the great team we have in place," said Gonzalo Olmedo, Business Manager and Event Coordinator.
Dr. Rohrer has partnered with a recognized oral surgeon in Delray Beach, FL, Dr. Ramon Perez, who will be performing extractions that day. Several dental professionals will be donating their time and resources that day, including doctors, hygienists and dental assistants. Thousands of dollars in dental services will be donated that day.
"Dentistry + Heart" will take place March 15, 2013 at 7:30am. The scheduling policy will be on a "first come - first served," with the hopes to provide care to 25 patients. Patients are asked to arrive early to reserve their spot in line for registration, which begins at 7am. Among the free services offered, there will be dental cleanings, xrays, exams, fillings and extractions. In addition, the doctors and the staff will be providing dental workshops on prevention and dental education.
For more information, please go to http://www.facebook.com/drsrohrer or visit our website at http://www.drsrohrer.com.
About Rohrer Cosmetic Restorative Dentistry
Established in 1987 in Delray Beach, FL by Drs. Tom and Joy Rohrer, Rohrer Cosmetic Restorative Dentistry combines traditional dental care with alternative therapy in the framework of whole body health. From veneers and laminates to porcelain crowns and teeth whitening, Rohrer Dentistry offers patients only the finest materials and biocompatible products. Where applicable, the practice also uses complimentary treatments such as diet counseling, deep relaxation, aromatherapy and natural detoxification. This integrated and holistic approach to dental care is performed in a comfortable, spa-like setting.