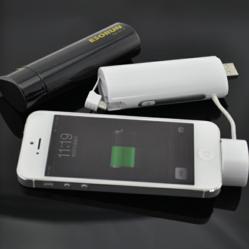 (PRWEB) March 02, 2013
The first power bank for iPhone 5 is being launched and released by Shenzhen Esorun Technology Co. Ltd. This iPhone 5 power bank uses and official 8-pin connector and comes with an MFI Certificate.
The iPhone 5 is the latest luxury and must have product from Apple that everyone is crazy about. The thinnest, lightest and fastest iPhone from Apple is an upgrade to its already elite line up of smart phones and many iPhone lovers have already gotten and been enjoying this amazing product.
Portable chargers have also been a popular item especially for travelers. With cell phones being such an essential in a person's life, it's very difficult when one is on the go and his mobile phone dies. It is very convenient for people to charge a portable charger and bring it along where ever they go in case they need to charge their mobile phones.
iPhone 5 users can now enjoy this convenience with the new iPhone Power Bank. It's stylish and fashionable and has a concealed design. It comes in a mini-size for extra portability. It also comes with the essential original Apple 8-pin connector and Micro USB plug. Now iPhone 5 users never have to worry about their phones running out of power. Users who want more information can find it on their website.
About Shenzhen Esorun Technology Co. Ltd
Shenzhen Esorun Technology Co. Ltd. is a professional technology company that provides a wide range of iPhone and iPad accessories, and other gadget accessories such as wireless chargers, power banks,carbon fiber cases, wireless external hard drives, Bluetooth speaker s, air fly mouses and more. For more information, contact George Jiang at sales(at)esorun(dot)com.