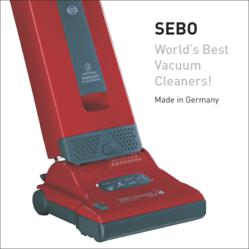 SEBO realized that the consumer was not able to see all model-related shopping items on a typical vacuum cleaner website page, and the consumer was forced to leave the page to hunt for vacuum accessory items.
Centennial, CO (PRWEB) March 01, 2013
SEBO vacuum cleaners has launched a unique website for consumers that address the most common problem in the vacuum cleaner industry . . . not enough information or detail given on a single page to consider when buying a vacuum cleaner. Today, most consumers appreciate having information available in a consolidated format for viewing when shopping online for a vacuum cleaner. SEBO believes the consumer should get to choose if they want more information, or not. They do not want to guess at which vacuum cleaner is the best vacuum for their home and if it is suitable for their floor-care needs. In addition, the consumer may be disappointed and may have to go through the hassle of returning the vacuum. Most consumers are not aware of the air quality health issues with typical bagless vacuums. SEBO informs the consumer of the importance of a sealed bagged vacuum cleaner with a three-step filtration system with hospital-grade microfilters that keep the dirt in the bag, not in the air they breathe.
SEBO realized that the consumer was not able to see all model-related shopping items on a typical vacuum cleaner website, and the consumer was forced to leave the product page to hunt for vacuum bags, vacuum filters, attachments and accessory items, or simply to learn more about the product. The other problem was the consumer may be limited to viewing advertising text only, and were void of vacuum cleaner videos, brochures, or personal assistance for them in determining the best vacuum cleaner for their home.
SEBO vacuums now offer that cutting-edge solution for the American consumer in the form of a unique website that is not available from other worlwide vacuum cleaner manufacturers. The consumer can watch product videos from the home page, and also from the product pages. SEBO has taken care of their customers by creating How-to Videos to explain basic maintenance procedures, such as changing a filter bag, easy brush roller removal for cleaning, and how to remove a clog. Customers can access this information 24 hours a day so they can watch the videos as many times they like. The website also includes vacuum reviews, helpful links, product accolades, and customer testimonials to help the consumer make an informed decision.
SEBO vacuum cleaners has also created a pet club on their website that provides resource links for pet lovers to non-profit pet organizations that offer pet services such as pet adoption, animal rescue, pet shelters, veterinary services, pet care grants, educational resources, etc., in the USA. Donations to these charities are extremely important to our pets' health and survival. SEBO has featured six pet charity organizations: The Humane Society of the United States, ASPCA, PETA, PetAid Colorado, MuttSavers Rescue, and Petfinder. SEBO invites other pet service organizations to participate in this pet awareness program for their community, and encourages volunteers to help their local pet charity organizations.
The SEBO Pet Club was also created to showcase pets of all kinds, and to encourage SEBO product owners to share their pet experiences or floor-care ideas, when pets are family members. Pet club members are also eligible for free product giveaways. To participate in their program, pet lovers can upload their pets' photo to the SEBO Pet Club for the whole world to see, and will remain indefinitely for the enjoyment of others.
ABOUT SEBO:
Made in Germany, since 1978, SEBO offers the world's best vacuum cleaners for pet hair removal, providing allergy and asthma relief, ease-of-use and reliability, and the best vacuum cleaners on the market. SEBO vacuum cleaners have received awards and recognition for the best canister and upright vacuum cleaners from Better Homes and Gardens, Consumer's Digest, TIME, Real Simple, Wired Test and other magazines. Their future-forward, technological breakthroughs in the science of cleaning are without precedent in the vacuum cleaner industry.