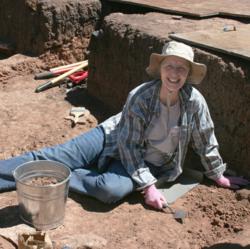 I loved the banter back and forth between my fellow 'diggers' and the excitement when someone made a discovery.--Libby Shafer
Cortez, Colorado (PRWEB) March 29, 2013
An increasing number of adult travelers are looking to vacation time not only as an occasion to relax and regenerate, but as an opportunity to learn. With a 30-year history of providing hands-on educational experiences to the public, the Crow Canyon Archaeological Center near Cortez, Colo., has expanded its adult programs to meet this demand.
Crow Canyon invites lifelong learners to join its archaeologists for excavations, lab work, or experimental artifact replication as they explore the 1,500-year-old history of the ancestral Pueblo people in the Southwest. The Center offers three programs for adults: the Archaeology Research Program, Archaeology Research Seminar, and Archaeology Lab Program. All programs take place at the Center's campus, surrounded by the majestic scenery of southwestern Colorado.
Archaeology Research Program
This year, Crow Canyon continues its Basketmaker Communities Project, focusing on ancestral Pueblo history from A.D. 500–750. Participants excavate at the Center's current excavation site and analyze artifacts in the lab alongside leading Southwestern archaeologists. A guided tour of Mesa Verde National Park is included. Weeks are available in June, August, September, and October.
Archaeology Research Seminar
Part pottery workshop, part experimental archaeology, the 2013 Adult Research Seminar explores the technological and social aspects of ancient Pueblo pottery production from A.D. 500–1300. Using locally available materials and traditional Pueblo techniques, participants will build, paint, and fire their own vessels in an attempt to replicate ancestral Pueblo black-on-white pottery. August 11–17.
Archaeology Lab Program
This year's Archaeology Lab Program will focus on ancestral Pueblo jewelry and other ornaments. In the lab, participants will analyze beads, pendants, and other items of personal adornment from sites that Crow Canyon is currently excavating. In addition, traditional tools and techniques will be used to make a variety of ornaments out of the same materials used by ancestral Pueblo Indian people. October 6–12.
A Family Archaeology Week is also available August 4–10.
To sign up or to receive more information, call 1-800-422-8975, ext. 146, or e-mail travel@crowcanyon.org.
About the Crow Canyon Archaeological Center
The not-for-profit Crow Canyon Archaeological Center, located near Cortez, Colo., conducts long-term, multidisciplinary research into the ancestral Pueblo Indians of the southwestern United States and provides experiential education programs for adults, teens, and children. The Center also collaborates with American Indians on a wide variety of initiatives of mutual interest, including research projects, education curricula, and language- and cultural-preservation programs.